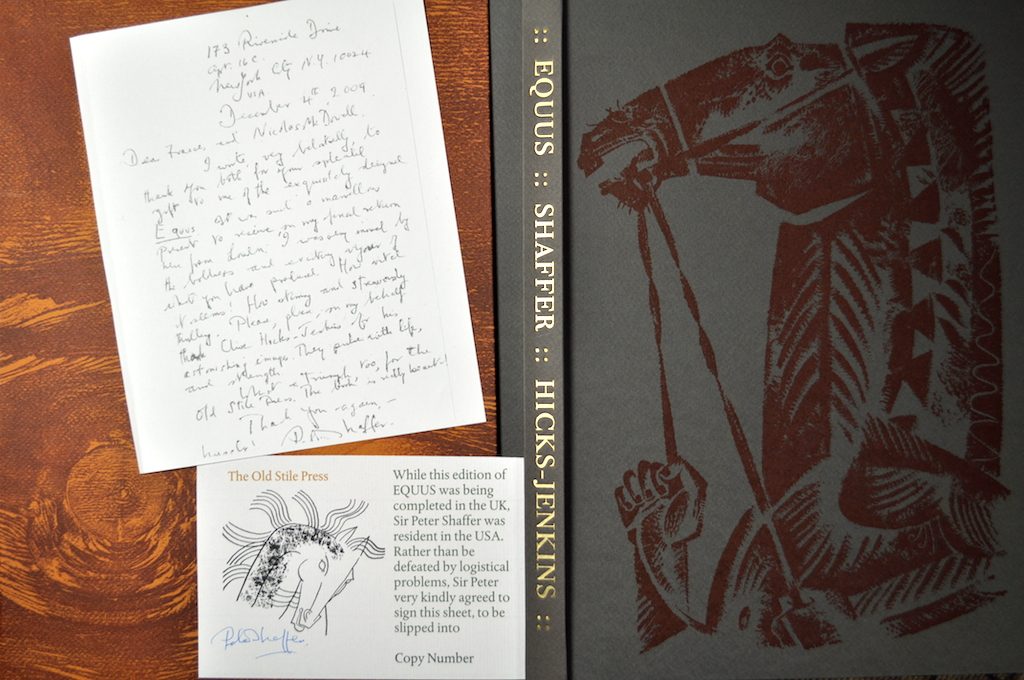 The recent death of Sir Peter Shaffer had the inevitable effect here of reminding us of the making of our edition of EQUUS – in 2009.
After all the labours of Clive Hicks-Jenkins in the making of the images and of ourselves in getting the book together, we were really pleased to receive a highly appreciative letter from Sir Peter, when a copy had reached him in New York. A photograph of it appears above (together with a copy of the insert with his signature that each copy contained) but, as it is somewhat hard to read, here is a transcript.
I write, very belatedly, to thank you both for your splendid gift to me of the exquisitely designed Equus. It was such a marvellous present to receive on my final return here from London. I was very moved by the boldness and exciting vigour of what you have produced. How vital it seems! How strong and strenuously thrilling. Please, please on my behalf thank Clive Hicks-Jenkins for his astonishing images. They pulse with life and strength.
What a triumph, too, for the Old Stile Press. The book is really beautiful.
Thank you again – hugely
Peter Shaffer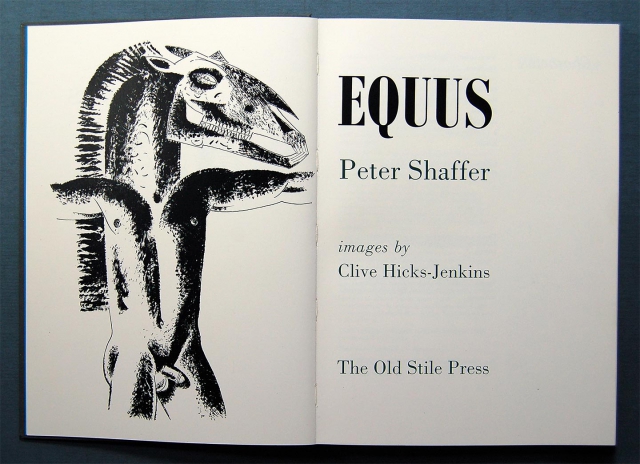 Our minds also returned to the Art Book Fair at the Whitechapel Gallery later that year where we elected to have a small ceremony on our stand to 'launch' the book. Apart from ourselves, there was Clive Hicks-Jenkins the book's artist and, to preside over the launch and to give a personal link with Sir Peter, there was the actor Simon Callow who, many years before, had created the character of Mozart in the original stage production of the author's Amadeus.
All jolly good fun and the book has been amazing and moving its admirers ever since. We are indeed pleased that copies are still available and full details can be found HERE.