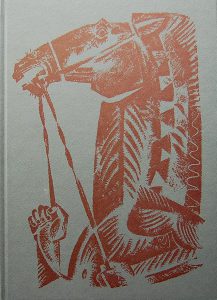 Equus was first produced on stage in 1973 and in its first published form Peter Shaffer wrote of the dangers of 'flatly setting down on paper what was far from flat on the stage, and listing inexpressively details of the work which, in accumulation, became deeply expressive'. John Dexter directed that first production 'powerfully through suggestion',
'. . . he charges the action of the play with electric life. He is a master of gesture and economy.'
More than thirty years later those words could be written about Clive Hicks-Jenkins' imagery which now accompanies the text. He wanted to create his own universe for this new expression of Shaffer's story. 'Meditations and inventions, rather than recollections of past productions' were his aim.
This is a long, dramatic text of a dreadful event committed by a highly disturbed young man. The characters endeavour to explore the mental world in which such a deed could be comprehensible but the power of the play is in the extraordinary relationship of the young man and his psychiatrist. Understanding the overwhelming nature of Alan's love of horses becomes the key and the imagery focuses on the struggle between horse and man and emergent sexuality.
Editions & Inscriptions
Copies of the Main Edition are Signed by playwright and artist. Numbered 1-200
Copies of the Special Edition are Signed by playwright and artist. Lettered I-X
EQUUS
Published in 2009
124 pp.
325 x 235 mm
Editions & Availability
200 copies were printed of the Main Edition and copies are available to buy at £285 each.
ISBN: 987-0-907664-83-3
Only 10 copies were printed of the Special Edition and copies are available to purchase at £950 each.
Purchase Enquiry
If you would like to purchase this book, please contact us, letting us know which edition you are interested in and your address.
Media Notes