New readers may not know that Frances and I are both graduates of St Andrews University (in the distant past) and were friends then . . . although we only 'got together' at a later date! Another friend of both of us back then, and subsequently, was Murray Grigor who was making films as a student but who has honed an increasingly starry name for himself as a maker of seriously beautiful (and beautifully serious) documentary films as well as designing art exhibitions and running film festivals.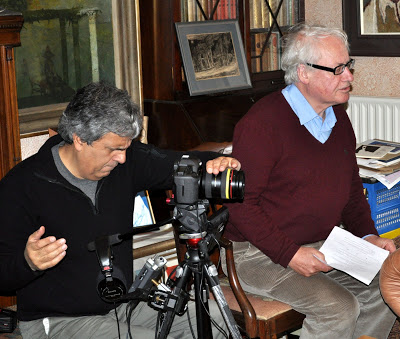 What you also need to know is that St Andrews University is coming up to its 600th anniversary. Yes, that is correct . . . it is older than any foundation in the UK with the exception of a college or so at Oxford and Cambridge. No doubt there will be any number of jamborees of all sorts to celebrate the event but, just for now, Murray Grigor has been commissioned to make a major documentary about the history of the place and the people who are alumni.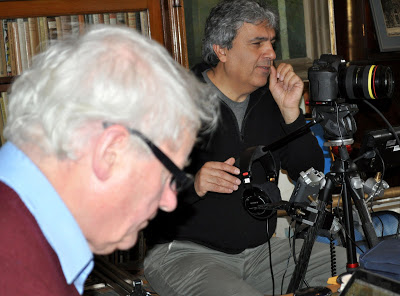 Living folk can be interviewed in various ways but dead ones cannot. The really good plan that Murray has come up with is that extant graduates should not only talk a bit about themselves but also about an earlier graduate no longer with us.
One of Frances' gifts to me in the early days lay in sharing with me the work of Gavin Douglas – whose translation of Vergil's Aeneid was completed in 1513 and first published in 1553. [The book had to be printed in London, incidentally, because the arts of printing had not quite reached Scotland.] His translation was hugely enhanced by the Prologues he wrote to each of the Books which often give delicious descriptions of Nature and country living of the day. This feeds so clearly into the subjects that we find valuable in our lives and in our work that Frances suggested to Murray that Douglas should be 'our chap'.
We had been told some time ago to expect a lightning visitation and it was on Monday evening that Murray (and the other part of this brilliant but lean team, his Director of Photography, Hamid Shams) arrived here having photographed wild boars that day (don't ask me why, it is a long story!) and Alex Salmond, Scotland's First Minister, the day before. They stayed a couple of nights and we had great fun. The 'spaghetti' enveloping Hamid's camera will tell its own story! They then rushed off to the next in a long line of St Andreans and will, very soon, be interviewing a pair of rather high profile graduates whom I am not at the moment allowed to mention!
. . . oh yes. I almost forgot to mention. There is to be a narrator throughout the show. A chap called Sean Connery . . .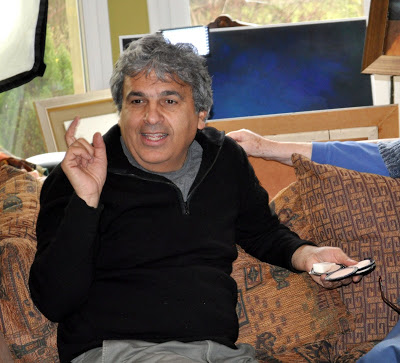 The fact was remembered that I had spent most of my time at University acting and directing with The Mermaid Dramatic Society. I rashly mentioned that I still had an old scrapbook . . . and that led to Hamid scanning old photos. As some of these are now on my desktop, I had better give you a laugh with me as David King in A Sleep of Prisoners and a couple as Creon in Oedipus at Colonus. The former was performed in the University Chapel (that's me in the pulpit) and the other in the ruins of the Castle. (Note to audience, bring your own blankets!)