We have described HERE the saga of how the final copy of the extraordinary piece of work, that Angela Lemaire made in a tiny edition when she was a student, came to us and was eventually given a designed binding for our library by Nesta Rendall Davies.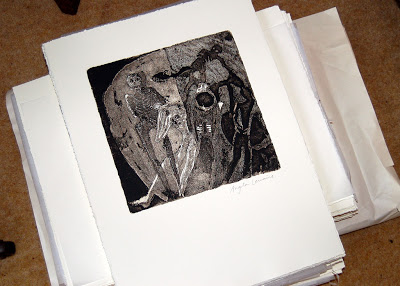 HERE, more recently, we described how we could not resist making available a small but immaculately produced and housed edition (only 25 copies for sale) and how the master printer Martyn Grimmer was battling away in Bristol to take impressions of the plates.
This task has now been completed and Angela has also finally managed to beat the snow to do her signing. The Binder is in the process of making the necessary drop back boxes and, when they arrive, I will take photographs of the folio in its entirety. Here, for the moment, is Frances . . .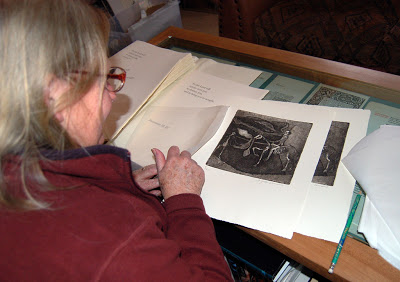 . . . collating the plates with their tissues and the text pages.
And here, because I couldn't resist, are a number of close-ups of these amazing prints. Powerfully horrible they are by clear design but these feelings, for me anyway, are swept clear away by a recognition of their clear-eyed truthfulness and their extraordinary beauty.