Frances says (!)
It may seem, to some readers of this blog, as though we spend all our time wafting about in meadows filled with cow parsley, cornflowers and apple blossom but here are some dates when we leave the sunny slopes and head off to places where our books can be seen and bought!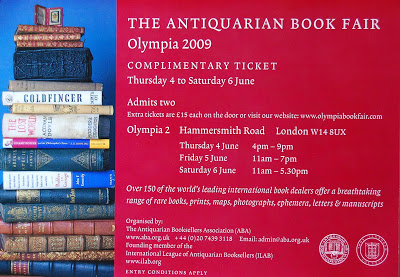 Olympia – The Antiquarian Book Fair
Thursday 4 June 4pm-9pm
Friday 5 June 11am – 7pm
Saturday 6 June 11am – 5.30pm
Olympia 2 Hammersmith Road London W14 8UX
This is the first time that this famous Fair has included designer bookbinders and a Private Press . . . us. Our stand is downstairs and on the way to refreshing coffee and somewhere to sit down. Quite possibly the perfect position! Do come to the Fair if you can. We can send you a free ticket, if you ask.
Abergavenny Art Shop and Gallery
Each year this exciting gallery shows the work of book artists and this year
Unfolding – celebrates the book in many forms by fine artists, printmakers and applied artists.
6 June – 11 July 2009
London Art Book Fair 2009,
Whitechapel Gallery, London E1
25-27 September 2009
This is the successor to the London Artists' Book Fair run for many years by Marcus Campbell. He is now expanding our horizons to collaborate with the newly re-furbished Whitechapel Gallery. The aim is to show the work of 70 international artists, bookmakers, gallery presses, publishing houses, art magazines and antiquarian dealers. More details nearer the time . . .
Oxford Fine Press Fair,
Oxford Brookes University
Saturday 7 and Sunday 8 November 2009
The fair happens only every other year and this year promises to have some exciting presses from many parts of the world showing their most recent work, apart from everybody's favourites from around the UK. Again, we will post times and details of speakers nearer the time.
as a special extra:
Larkhall Fine Art Dealers
10 St Margaret Buildings, Bath BA1 2LP
01225 444480
C. F. Tunnicliffe RA OBE The Memorial Collection Part Two
Gallery Hours Tuesday – Saturday 10:30 – 5:30 Other times by appointment