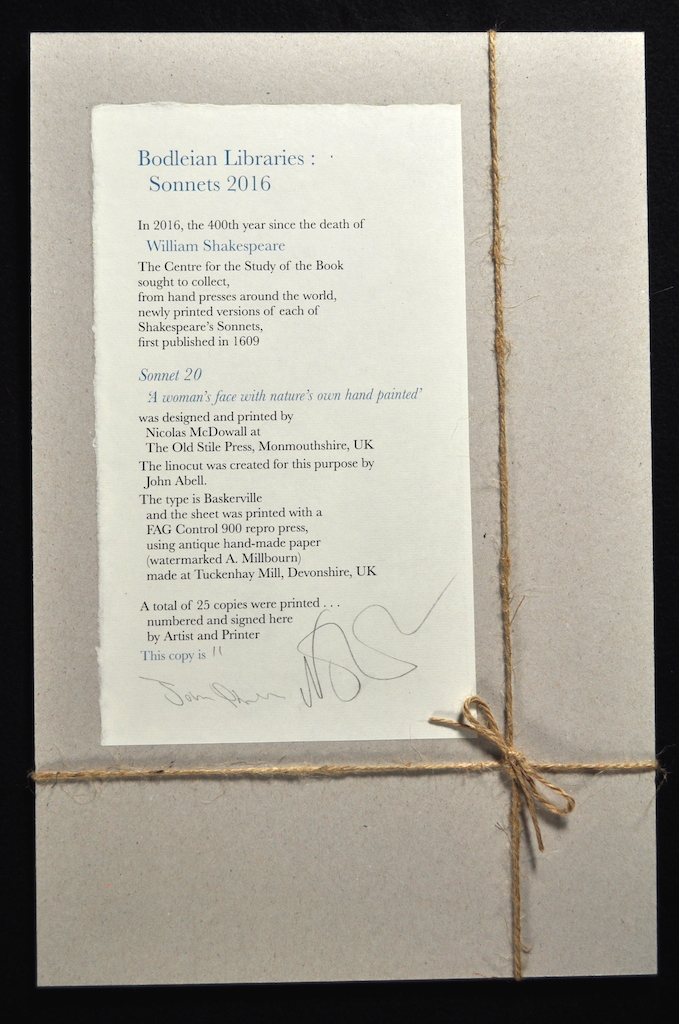 Lucy Evans, Rare Books, blogged
'the Bodleian Library collects 154 sonnets from presses around the world . . . '
"From close to home and further afield, from Oxford to Moonshine Road, California, to New Delhi and Llandogo, hand-press printers across the world answered the call to print Shakespeare's 154 sonnets.
An enthusiastic response meant all 154 sonnets were quickly assigned. The UK and the USA are the most heavily represented countries with particularly strong showing from Oxford, California and Iowa. Submissions are also expected from Australia, Belgium, Canada, Finland, France, Germany, India, Ireland, Israel, Italy , Mexico, the Netherlands, New Zealand, Norway and Spain.
The printers involved range from large scale operations to university departments, not for profit organisations, the Virginia Arts of the Book Center, individuals printing at home and an ex-librarian from Australia.
The project is now well underway and we eagerly await parcels winging their way to the Bodleian from across the world. Congratulations to the Kings Bookshop, Callander, who were the first to submit sonnet 92,translated into Scots!"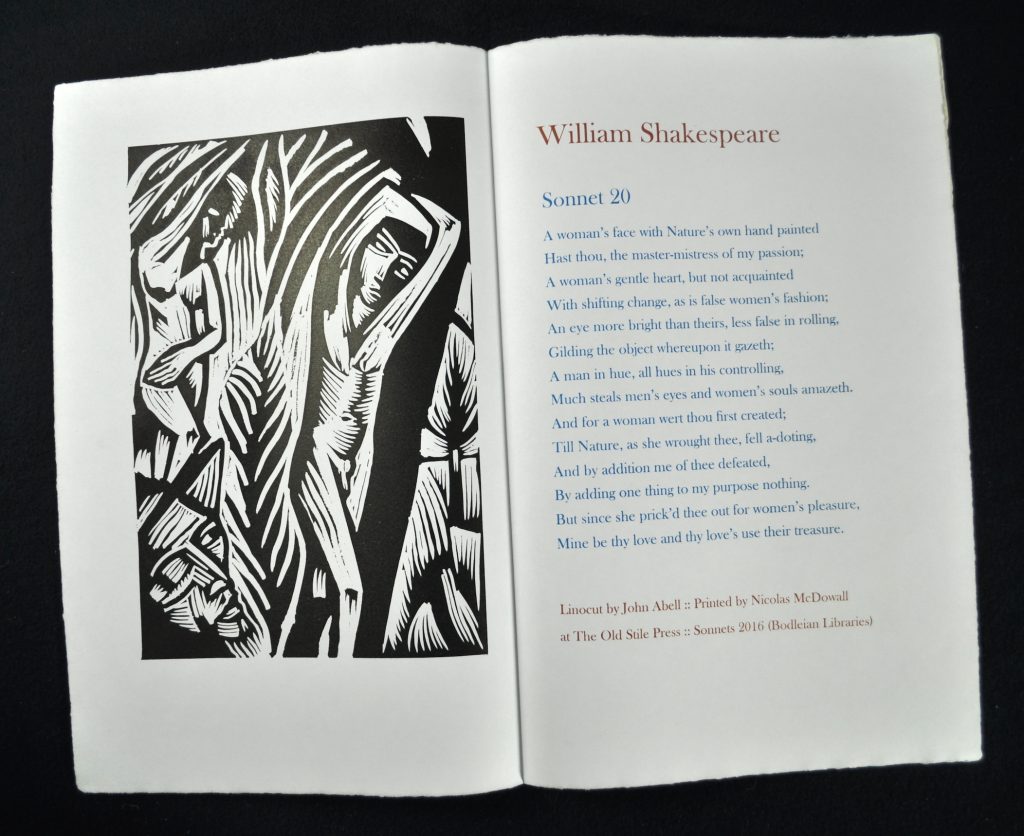 Happily, we at The Old Stile Press, were told of this exciting and imaginative scheme at a very early stage so that, when we went to the website, all but a few of the Sonnets were still available so we were able to choose freely. By the very next day, however, the online list was totally filled with the names of hand presses from around the world.
We had recently been working closely with the artist John Abell on a number of projects (as any reader of these newsletters will know!)  and he eagerly fell in with our plan to design our Sonnet as a double-page spread from a book – and a pretty massive book at that.
I had purchased many years ago a small packet of delicious handmade paper from a previous century and we decided this would be good to use . . . and its size (42.5 x 54cm) would give us the scope for the sizeable treatment of the scheme that we had envisioned!Two colours for the text and a good black for the powerful linocut and the folded sheet was to be enclosed in  a paper portfolio – itself contained in  a pair of labelled boards tied up with string.
This was our offering and a copy has duly been sent off to the Bodleian Library, hopefully to take its place among all the others.We did, however, have enough materials to make 25 copies and the remaining copies of this small edition were offered for purchase by those who might be quickest off the mark! The response was immediate and within 6 hours of mailing our offer all copies were sold and there were not a few disappointed. They have now gone out to homes and libraries worldwide in addition, of course, to the chief significant owner The Bodleian Library in Oxford. It has been an interesting and exciting project to be involved in and we hope that there will be an opportunity for all those submitted to the Library to be seen and enjoyed in this celebratory year for the work of Shakespeare.