The second of the books with texts by George Mackay Brown that we published, emerged in 1991, to coincide with George's 7oth birthday, was In the Margins of a Shakespeare. The book was very well received and some time ago joined our first venture with GMB (Keepers of the House) into the dark world of out-of-print-ness.
For anyone who may have been searching the online shelves of ABE or the like, I have good news. A new edition of In the Margins of a Shakespeare has just been published. There is, for many, just one catch . . . it is in Japanese!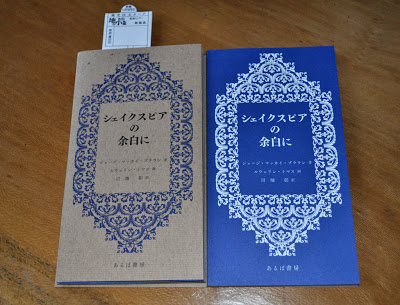 After happy email exchanges between Tokyo and Llandogo on various matters over a number of months we received, just yesterday, a couple of early copies of this deliciously neat and elegant edition which I, for one, am more than proud to be, as it were, the grandfather of.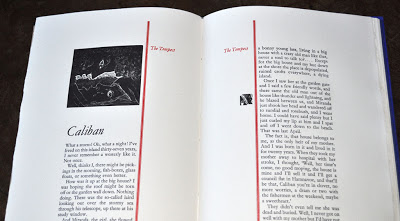 I cannot begin to imagine the editorial complications involved in paging the two versions but the fact that Llewellyn Thomas's image for the piece on The Tempest ends up on a different page from the original indicates that there was nothing as simple as a page for page substitution.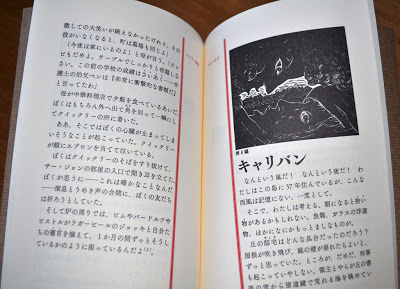 The image at the head of this piece is of our cover and the same arrangement of printers' flowers can be seen on the cover (and elegant wrapper) of the Japanese version.
I omitted to say above that a Japanese edition of Keepers of the House appeared some years ago from the same publisher, Alba Shobo. We have not yet mentioned any possibility of the same honour being afforded to the third of our George Mackay Brown collaborations . . . The Girl from the Sea . . . but that of course is happily still, at least, available in its English form!
As a postscript to this story I must add this final photograph which demonstrates, yet again, my egregious sluttishness when it comes to distribution of type. I always seemed to have some other book to move on to! Still, it is quite happy having sat there for the the past 20 years (ye gods!) so another 20 should not make any difference.