Way back in 1999, we had the great pleasure of helping towards publication Natalie's amazing vision of The Revelation of Saint John the Divine. Many people thought it one of the most radical pieces of book production they had ever seen and it was widely exhibited in Libraries and Museums, especially during the year of the Millennium.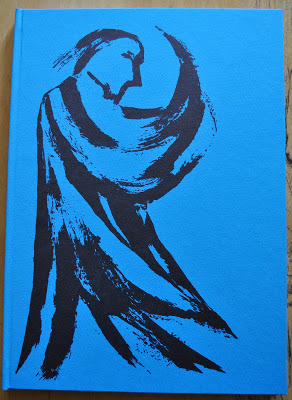 We have just published another unique book consisting of images by Nd'A and I cannot resist posting some of these here.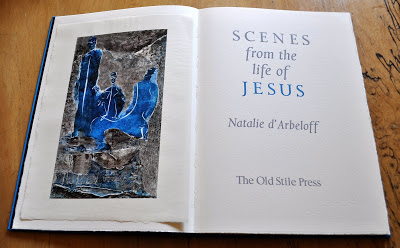 The more than amazing fact about these images is that they were done, in the 1950s, when Natalie was an art student in New York. They were filed away and only re-surfaced last year. The artist proceeded to post some on her wonderfully idiosyncratic blog, of which we are ardent followers. (See Link right)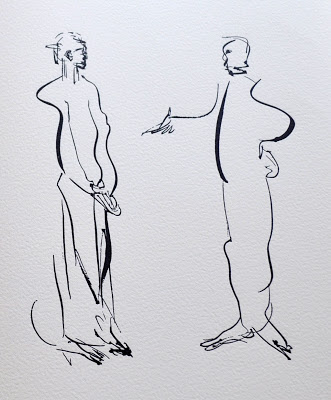 The moment I saw these drawings, I felt that I would love to try to make a book of them. That book is now completed and I am happy with it . . . and so, I am relieved to say, is Natalie who came to stay with us a couple of days ago to sign the copies – see photographs above and below.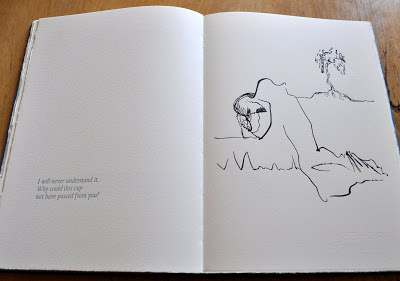 The book is of simple layout. For each of the drawings there are two full page spreads, giving an appropriate title, a Bible quotation and a 'comment' by the artist.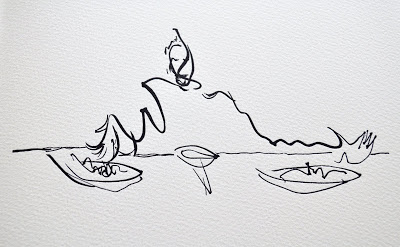 I have chosen this one of The Last Supper to enlarge here so the extraordinary strength of the ink line can be seen. This is one of my favourites (as is the one above showing Jesus talking to Pilate) but they are all marvellous).
We have a pdf about the book which we have just sent out as an email. Please ask if you have not received one. Full details will be on our website . . . as soon as I can get to it! In case of interest, however, the price of the book is £95 plus p&p.
Happily it was lovely weather when Natalie arrived so we tried to make the signing not take too long! This final photograph mixes elements of signing and nice weather outside . . . taken through the window!