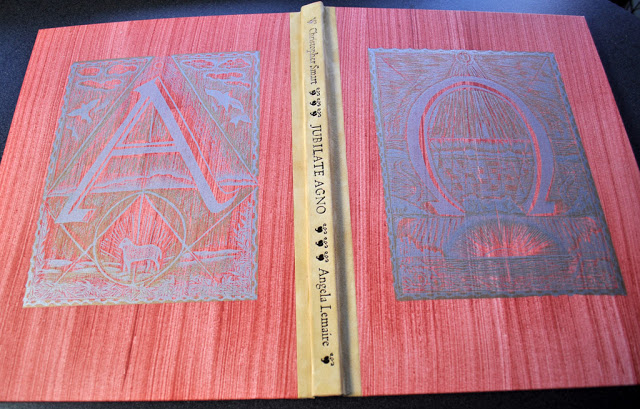 Last evening, Frances and I gave a talk to a friendly and enthusiastic group at the Monnow Valley Art Centre which was mentioned by Frances two posts back. The subject of the event was the relationship between ourselves, the books we produce and the artists we work with.
We also planned to describe our latest project in the context of the talk and we were thrilled when it proved possible for the first bound copy of the book, sent by the binders, to reach us (just a couple of hours) before we left home for the Monnow Valley. Great drama in the unveiling, then, and general approval all round, I am happy to say.
This project is a major one for us and has been one of the central activities in our lives for a long time now, although we are aware that we have not revealed anything about it during the many months we have been labouring. Even now we can only offer a partial unveiling as the Main Edition slipcase and the solander box for the Special Edition have yet to be completed and we will also have to remain coy about the prices for the two editions . . . for we still do not know some final costs.
For me, anyway, the book is a tribute to the day when I was given the mighty pleasure of being able to study (closely and intimately) the great copy of the Gutenberg Bible in the library of Eton College. On our way home I decided that I wanted to make a book which, apart from many other reasons for bringing it about, was clearly a tribute to the wonderful Bible I had been allowed to examine.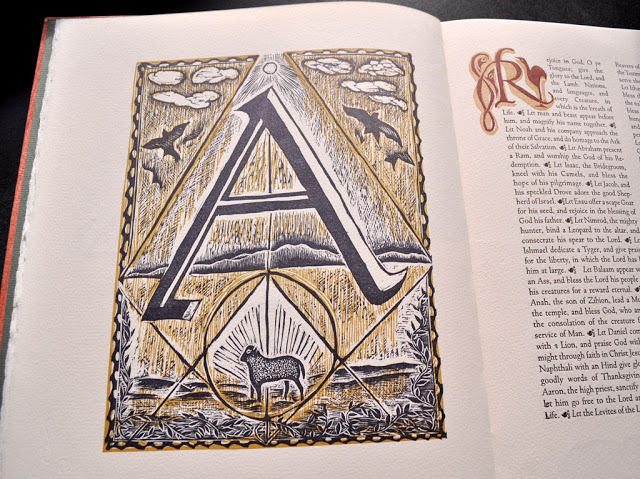 After much thought, we decided that Christopher Smart's  strange, wonderful and life-enhancing text entitled Jubilate Agno would be a fitting subject and the challenge to work the great mass of words into an editorially disciplined form (and to enable the artist, Angela Lemaire, who enthusiastically chose to accompany us on this great trek, to be able to express her own approach to a much-loved text) was appropriately daunting!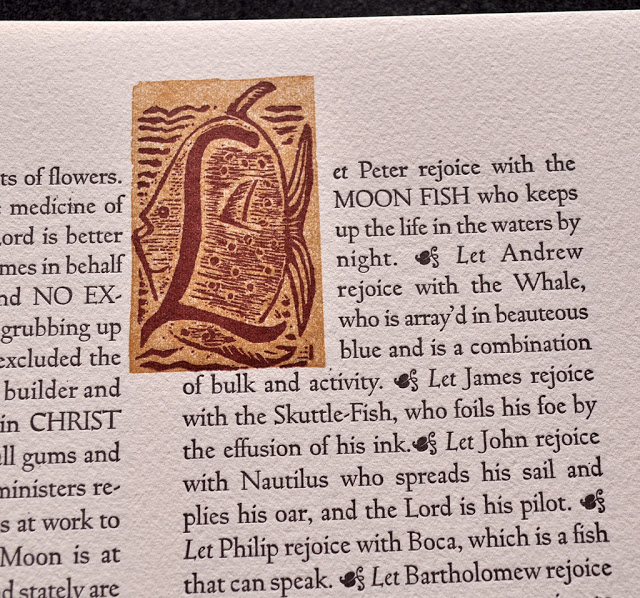 We will of course post more about this exciting book when the binding has been completed and the prices fixed.
Angela's images are all printed direct from her wood- and linocut blocks and all the colour you see in these photographs is the printed colour to be found in all copies of the Main Edition.
Please note, though, that (as with earlier ventures) Angela has added
much hand-colouring to the pages of the ten copies of the Special
Edition, for which a drop-back box is also being created. On previous
occasions, these copies have been snapped up almost immediately so do
contact us to make a reservation, subject of course to hearing what the
price has to be!