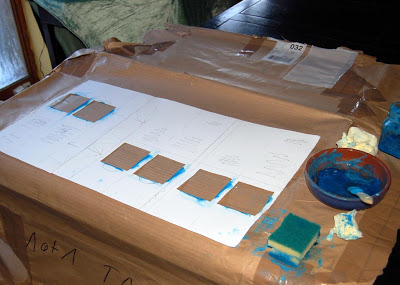 . . . when Christmas Cards have to be produced!
Our first thought is whether there is anything suitable in the book that is 'on the press' or in preparation at the moment. [The Benjamin Britten A Christmas Sequence was so long in coming that it served for TWO Christmases!]
Thus it was logical to think in terms of Clive Hicks-Jenkins who has long been making studies towards a definitive style for our edition of Peter Shaffer's play EQUUS. These heads may or may not appear in the book as the style continues to develop. The images in the book, however, certainly won't have blue backgrounds!
This was my idea and (as I said to Clive in an email giving him a courtesy preview!) 'I enjoyed painting 400 unique little abstracts – just in the correct place on a large sheet. I reckoned it was fascinating how each of the heads changes character minutely depending on the background'.
Clive happily approved of what I had done and added "I like the way the brush strokes give a feeling of wind and movement in keeping with the mane-blown subject. And the colour too is perfect, turning the beast into a creature of the high air, as in Pegasus, as well perhaps as of watery depths, as personified by the Scottish Kelpie!"
Here, then are three cards, more or less at random. You can make up your own mind whether the horses change character or mood!