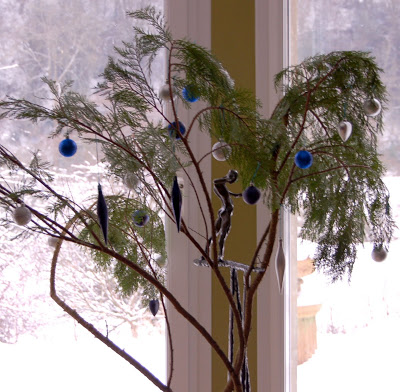 In common with a good number of folk throughout these lands I am sure, we are preparing to enjoy Christmas in the warmth (I hope!) of our own home with no one from outside who is further than trudging distance.
We are going to observe most of what one ought to observe . . . but on a somewhat smaller scale, perhaps. In this context, and spirit, we have just put up our 'tree'. Far from wanting to purchase an adolescent tree cut down in its prime, we have sought to use branches from a beautiful twisting evergreen that needed to be trimmed in order to give us a clearer run at our drive.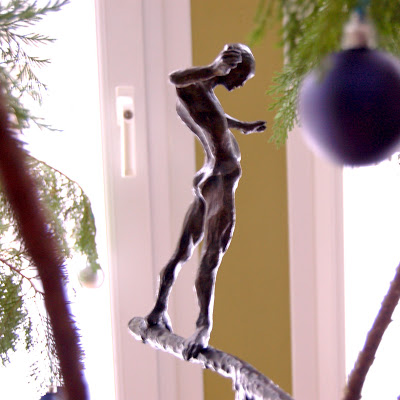 We have done this before, actually, and the secret for success involves having to hand a bronze sculpture by Michael Ayrton entitled The Equilibrist. This has, I think, been seen before on these pages in various guises but not before in the role of a Christmas tree stand. This time I had prepared for myself some lengths of soft wire but these were not needed, for the branch twined round the sculpture's uprights as if grown perfectly for the purpose.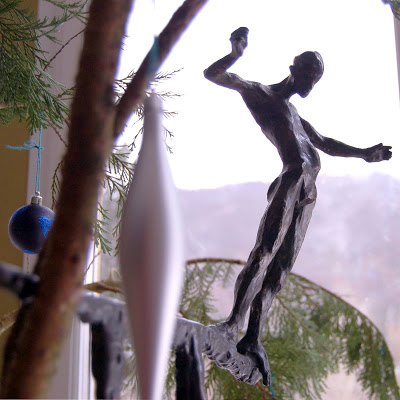 There was even a sort of inevitability about this symbiotic relationship that I feel Ayrton, the great Mazemaker, might have appreciated.