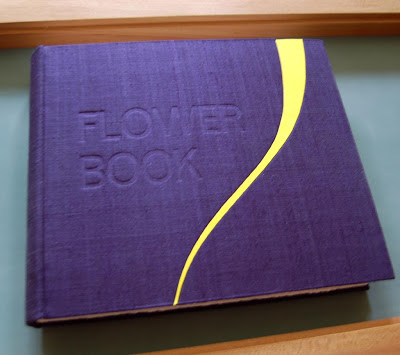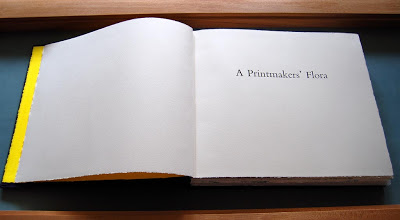 Here is a book which I not only objectively admire but which gives me tingles down the spine when I turn its pages. I love sharing the joys of it with friends, not least because the tiny 'run' means that there will not be many other copies around.
It was all a matter of chance, and the need for a quick decision! Towards the end of 1996, Frances and I were staying with some friends in Devonshire. This was interesting enough, because we so seldom leave here, but one evening we were taken to the Private View of an exhibition by members of "The Dartington Printmakers" at The Devon Guild of Craftsmen.
"You should be interested," we were told, "because it takes the form of a book."
We were interested . . . from the very first glance.
On entering the hall where the exhibition was being held, we were faced with the amazing sight of thirty-six (the complete edition!) copies of a large book laid out in an exact grid in the middle of the floor (3 x 12, as I remember), with the design on the cover, striking enough on one copy, making a really dramatic repeat pattern.
I was immediately intrigued and set out to find out what this extraordinary book was. I can best quote a few sentences from the preface by Michael Honnor (the Svengali figure behind the venture, I understand!) in the catalogue.
A Printmakers' Flora is a remarkable limited edition Artists' book. Every part of it has been hand-made at Dartington by twenty one printmakers, a bookbinder and a letterpress printer. The idea was to make a large, luxurious book about British wild flowers in the form of an anthology of their common names. The book would exploit the diversity of the artists taking part and use a wide variety of printmaking techniques. Thirty flowers would be chosen, each illustrated by two Artist's prints. The result is a strikingly handsome, unusual and substantial book, bound in blue silk and printed on heavy artist's paper and hand-made Chinese paper. The edition consists of thirty seven books with one Artist' Proof copy. Twenty three of these belong to the participants, one has been purchased by the V & A, one by the Dartington Hall Trust and three by major collectors. The remaining nine are for sale.
N I N E copies!!! . . . and the private view was simply seething with people who looked to me as if their cheque-books were always at the ready one such occasions!
I should mention that, by now, we had seen the inside of the book. Not by looking at a copy of it (all were on parade on the floor) but, in an adjoining room, in the form of spreads/prints framed on the walls. A further limited edition of each of these prints was for sale and a 'set' of them seemed quite expensive. It seemed to me, however, that having them bound together in a book, would make them more, rather than less, fascinating . . . but then I am a book person.
Another advantage was that, in this form, it seemed to be priced as a book is priced rather than as something from an art gallery. How often have we been surprised and aggrieved at other examples of this but, on this occasion, it worked in our favour because the book contained everything, was a stunning object but the price seemed almost moderate for the wonder that it was.
Anyway, we BOUGHT a copy and have never regretted it. We turn its pages often, particularly in the winter months when spring and summer seem so far away.
I will not comment further but will just let these wonderful pages speak for themselves. You need to know one more thing – the scale of the thing. The book is, by most standards, vast. The spread of the opened book measures 30 inches!