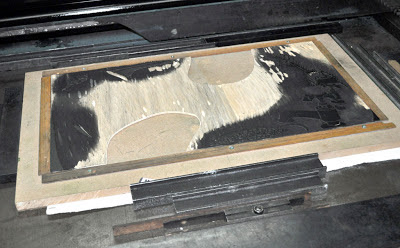 Variations of this somewhat unpreposessing sight have been in front of my eyes day after day in my printing office over a period of many months. They have all been blocks cut by Ralph Kiggell in Bangkok for his second book with The Old Stile Press entitled The Third Thing. I started off with ones that printed grey and then moved through green on to blue. The results were satisfying, up to a point, as I managed to get the register correct and the image I was printing placed itself perfectly on the page in relation to the earlier colour which I might have printed a week or a month ago . . . but it was not until this morning that I added a (final) black printing to a two-page spread and had the great satisfaction of seeing a finished work!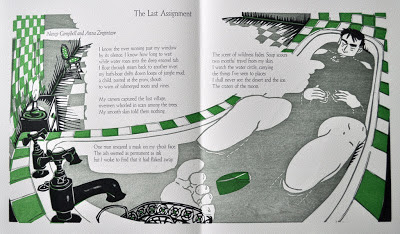 This wonderful image is typical of Ralph's vision and ability to mould perspective to his whim and, indeed, I already know that this will be a very special book. The theme this time is 'Water' and the selection of poems and prose extracts is wide-ranging. Some are well-known and some are not. This fine poem by Nancy and Anna will, as it happens, be receiving its first publication in this book.
Despite the excitement of today, I have a number of weeks left of adding black printings and then going back to other colours where they have to be printed on top of the black in order to bring about the effects required by the artist.
I am kept hard at it partly to enjoy the satisfaction that a successful printing brings me and partly because, remembering the eagerness with which copies of Ralph's earlier book, Leading the Cranes Home, was snatched up by collectors, I  know that this book also will be a very popular one.
I need hardly point out that this blog has been silent for many moons. I apologise to those who have in the past done me the honour of looking at my stuff. As the silent time grew longer, I thought, gloomily, that all would have fled and, even if I started again, nobody would  know!
The fact is that Frances' brother Hugo, a black-belt computer whiz, came to stay and up-graded Frances' skills in the way of Facebook . . . and convinced us that she could use the wonders of that to tell the world of this blog's resurrection. So . . .
The use of the word hibernation in this heading is not just affectation. I have been seriously uncomfortable during the endless ice age and, only now, am I truly living again. The Spring is rushing to catch up and I have never heard so many ecstatic birds. I have trained myself to be awake for the Dawn Chorus each morning and revel in the halleluias of the many and, particularly, the sublime coluratura of the blackbird just outside our bedroom window.
After photographing the woodblock on my press, I took a few more examples of the surge of Spring. Is it just a reaction from all that snow in the eyes or are the dandelions even more glorious than usual this time?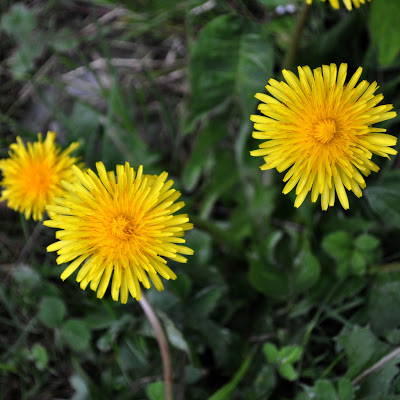 This lady's smock has been blown about a bit but . . .  what a delicate construction.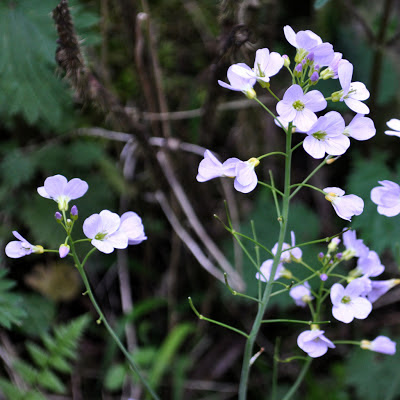 And, as for these, what species of dragon's teeth were planted here to give rise to such a terrifyingly beautiful army?