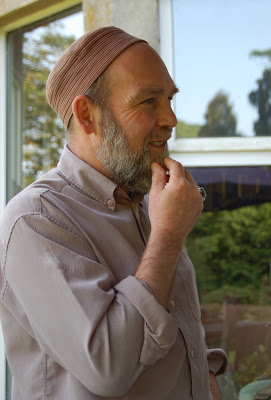 We never cease to be amazed by events which just happen. A few days ago, while I was working in my cool printing office, out of the heat of the sun, there was a gentle tap at the door followed by the smiling face of Habib Dingle.
It is some years now since he moved from his bookbinding workshop just over the hill from here and so unexpected visits from him nowadays really are a surprise. He had been visiting Donald Jackson, the calligrapher who is just completing the mammoth task of creating the St John's Bible for the American University of St John's. This magnificent work has been in preparation for some years already – close to us in Monmouth – so Habib called in after leaving the Calligraphy Centre. It was good to be able to talk about binding and the directions in which his work is going.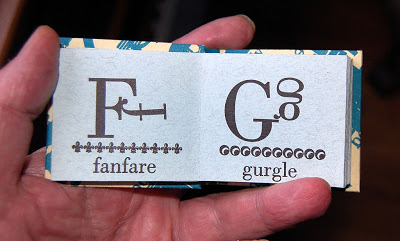 Soon after finishing his training in Bristol, where we first met him, he bound for us A Bodoni Charade – Nicolas' small typographic alphabet, long sold out.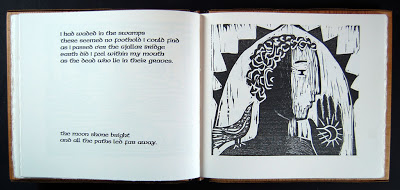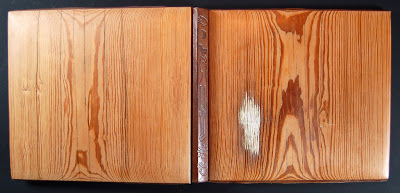 He then moved on to his tour de force, for us, of binding over a hundred copies in wood of Maryclare Foa's The Dream Song of Olaf Asteson, of which we do have some copies, most surprisingly. There was also a special hand coloured boxed edition which sold out overnight.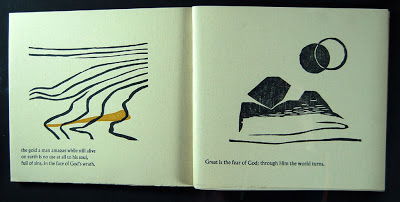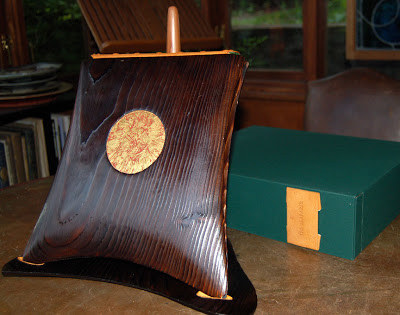 He has always had a great love of wood – and has wanted to use it in his binding on many occasions, but probably never put it to better use than in his special bindings of Kevin Crossley-Holland and Inger Lawrance's The Seafarer. The strong poem of man's struggle with the sea – the whale-road – and his use of shape and textures are perfectly matched in the ten copies he made for the group of designed bindings which we asked younger binders to create for us.
Since we last met, Habib has travelled widely and worked overseas and now has come back to thoughts of bookbinding in this country once more. Hence, we had long discussions about the exhibition at the Flow Gallery which Designer Bookbinders put on and the forthcoming show which is touring, starting at Gregynog, of bindings on a book of tributes to Sir Kyffin Williams, painter, especially of landscapes in North Wales.