Well, we did not do any fishing as such but we have eaten enough of the stuff! And wonderful it was too.
Frances and I decided a few weeks ago that we needed to get away for a few days (three nights to be exact) and one particular hotel seemed to jump out of the internet, so we booked it. The moment we mentioned to friends that we were going to Hope Cove in South Devon, many said that they had been there as children or for some other reason knew it well, but it was completely unknown to us. Now, I have to say, it is simply top of our list.
We left home reasonably early and ate up the motorway as far as Exeter. Thereafter we turned left so we could dawdle past some of the well-known features of The English Riviera. We started off with Dawlish where we had a sandwich and I took a lot of photographs, including the one at the head of this post!
We really liked this place. It was delightfully old-fashioned but exciting – with big trains running right along the beach and disappearing into five tunnels blasted through bright rusty-purple cliffs by friends of Isambard Kingdom Brunel.
We spent more time than we thought we should in that friendly place but it did not matter because one glance at Torquay and Paignton showed that we did not want to spend more time in either than was needed to find a way out.
That left Brixham. I have known about this place all my life but I don't think I have actually been there before. My parents knew it well and a painting by Arthur Briscoe hung above the mantlepiece at home which I loved. It was of boats (of course, knowing my parents) and it was of Brixham Harbour but, as there was a thick fog (beautifully painted) I never gained any knowledge as to what the place looked like.
At first glance, Brixham seemed to have gone the way of everything else . . . with thousands of smart and expensive yachts in place of the few fog-bound old-timers of my youth. Then, in the distance, we suddenly saw a small brown mainsail at an angle and and a tiny foresail and slowly there came into sight exactly the sort of boat that I believe my parents owned when they were young. The boat's name was Pobble and I have always had the romantic notion that I was conceived on board one day in late August 1936!
We eventually reached Hope Cove and our hotel and it immediately became clear that we had made a good decision! I will not give a blow by blow account of our stay, let alone of the wonderful food that we were given (too cruel!) but suffice it to say that everything went our way – especially the weather for we had loads of sun when most of the country had none. I will leave it to the inevitable photographs to tell the story or at least to give the atmosphere.
If you are the sort of person who likes holiday photographs to be straightforward shots of places and people you will, I fear, be frustrated by many of these but I have to say that I was rather pleased with a number of these, especially this one. It is amazing how many straight line and interesting containments of space are to be found at the seaside!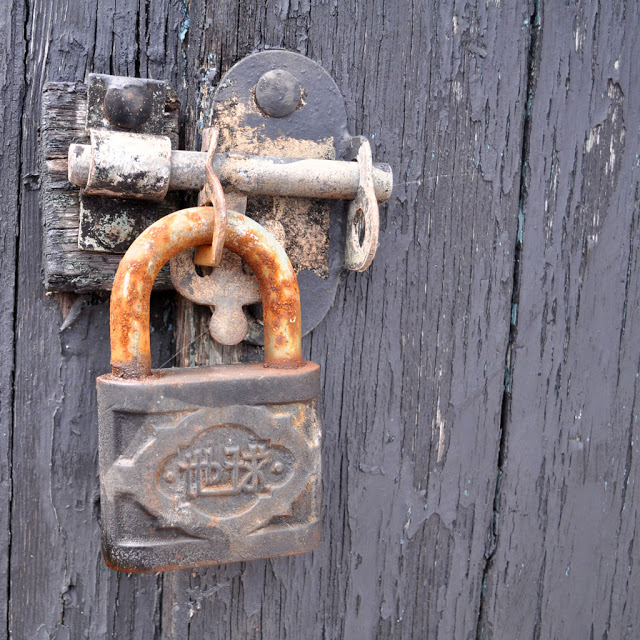 Finally, here is one of Frances, in Edith Sitwell mode. Any of our gentle readers who know what she had been putting up with during this last year, will be happy to know that she is in very good form and full of the joys of early summer.