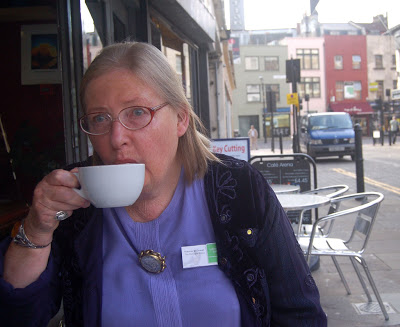 The McDowalls stepped out of their hotel and were assailed by wafts of warm air bearing scents of exotic food preparation and the sounds of multifarious city life. Had they returned to Italy for another holiday? Sitting down for a pavement breakfast, Frances sips her coffee while I turn 90 degrees in my seat to snap the Duomo . . . or rather the Gherkin, almost as impressive in its way! It was pretty well our first visit to this part of London since it had become a centre d'animation in so many ways, and it happened to be a gloriously sunny and almost hot end of September.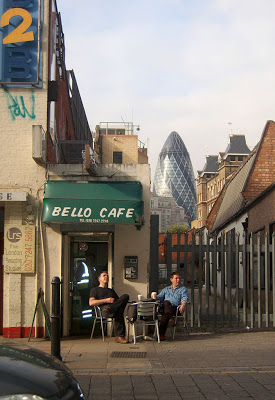 NOT a holiday, in fact, but a pleasant prelude to a three-day stint in The Whitechapel Gallery where we were showing our wares at The London Art Book Fair.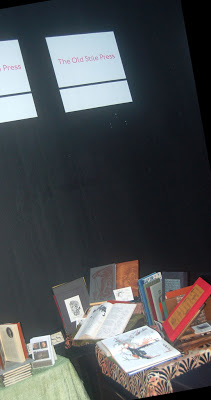 This was a 'new' event although it was the development of a number of fairs that had happened in former years. The Fair was hectic throughout but in a good way. We were most pleased to have met (and often talked at length to) people we had not met before in any form. Especially happy to meet young designers and printmaking students who clearly liked the books we make when they could have been expected to look askance at objects so clearly NON-trendy.
This event marked the first public appearance of EQUUS (see major post below) and the book was much admired. It had been planned that, at the start of the Fair, there would be a small gathering of people who had been concerned, especially Clive Hicks-Jenkins, the artist, and Callum James whose chance remark to us had started this particular quadruped galloping!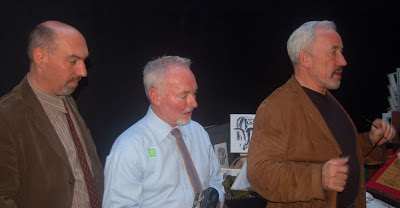 This shows Clive (in the centre) with Peter Wakelin and, on the right of the photograph, the unmistakeable figure of Simon Callow.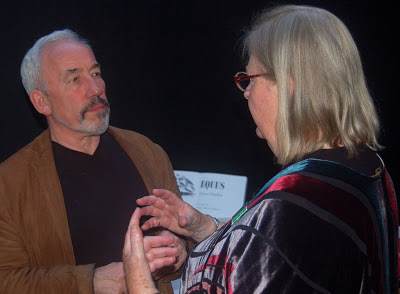 Simon Callow has been a friend of Clive's for some years and he helped the artist during his work on the many images for the book with much thoughtful comment . . . especially while Callow was actually taking the part of Dr Dysart in the production last year that toured the country.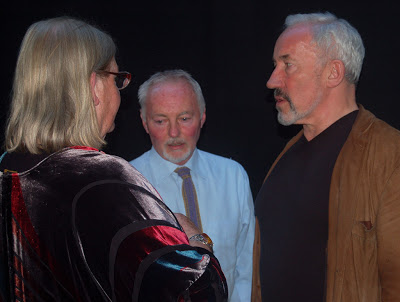 He had much of interest to say here as well and we were very grateful that he had found time to visit this newborn book . . . and to turn some heads in the Gallery!