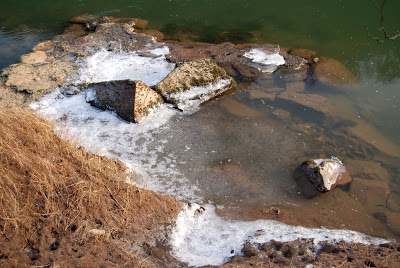 The margins and sheltered backwaters of our river are frozen. This is one of the manmade piers (called cribs in this part of the world) made for fishermen to operate from, which are visible at low tide as here.
The country is afflicted at the moment by very cold winds from the north and frost and frozen water have been with us, morning and night, for many days. I am blissfully happy at the end of the day when we can snuggle under a large duvet but, to be honest, for the rest of the time, my brain freezes as solid as my body and any amount of thermal attire can hardly keep me functioning from one cup of coffee to the next . . . and that is without having had a very painful tooth removed yesterday!
Heigh Ho!
If rather miserable, go for a walk . . . with the camera!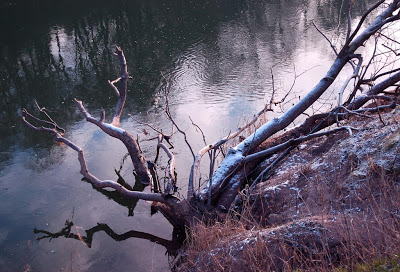 That one is quite pleasing but the photograph below is pretty boring, I hear you say. Yes, but fascinating to me. The grass does not LOOK very frosted but is, in fact, hard and crunchy, like wedding icing. I suddenly realized that I was looking at deer slots quite clearly made and preserved and that there was a great number (indeed pretty well a fieldful) of them. We know that the deer do always come down from the hill behind us to the river but only seldom do we see them. Clearly, if I were a better Boy Scout than I ever could have been (even had I joined ), I might have been to answer the crucial question. In the moonlight of last night (with me firmly under the duvet), were there scores of roe deer leaving all those elegant footprints or was it just a few who spent the night running up and down and round in circles?
Here they some, anyway, down by the riverside.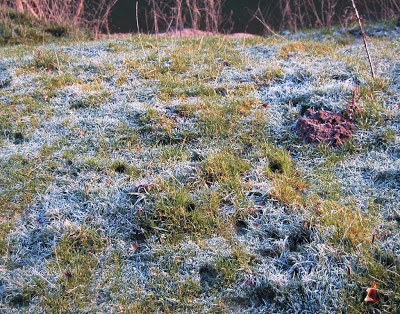 Just when I was concentrating on something else, I heard one of my (and most everyone else's, I reckon) favourite sounds . . . the beating of swans' wings. I was at the riverside, at least, but had no time for anything other than to press the button and hope. By the time these two lovely creatures had disappeared round the bend of the river, I had taken four shots. Two proved to be complete failures but I am happy that (with some careful cropping) I got these two beauties. 50% is not too bad!