For those eager book buyers who like to see and handle books before adding them to their shelves, here are some occasions during the year when you have the opportunity to enjoy displays – not just of The Old Stile Press books – but those from other presses too.
During the Bath Literature Festival the Gallery in Chapel Row, Bath will be showing artists' books from some of the members of the Fine Press Book Association:
13 February – 2 March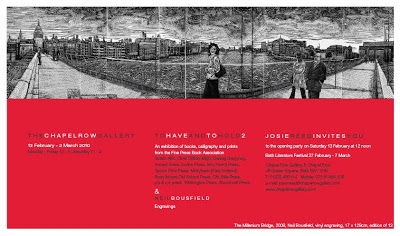 Then later in the year:
3,4,5 June we shall be showing downstairs at the London International Antiquarian Book Fair 2010 at Olympia. Here we are in the company of many major booksellers who have for sale treasures from the whole tradition of private presses. It is good to be surrounded by examples of the fine printing and imagery which inspired us to use those skills for contemporary book making.
23-26 September are the dates for the second London Art Book Fair at the Whitechapel Gallery – this is the Fair which has succeeded Marcus Campbell's fairs at the ICA. We exhibited at the first show last year – and here we are in the company of all sorts of contemporary artist's books from the unique copy to small editions by an individual alongside major trade publishers who specialise in books about art and artists. We enjoy displaying what we do and finding so many who are unaware of the output of presses working with old traditions to create new and exciting books with contemporary artists and writers.
2-3 October will see the Oak Knoll Fest 2010 in New Castle, Delaware, USA – we have still to decide upon that.
A few people have said that they 'look forward to seeing us' at the Watercolours & Works on Paper Fair – this year to be at the Science Museum in London (3-7 February). Sadly, however, this new venue does not have sufficient space to include the group of presses showing their work – so we won't be able to see you there.