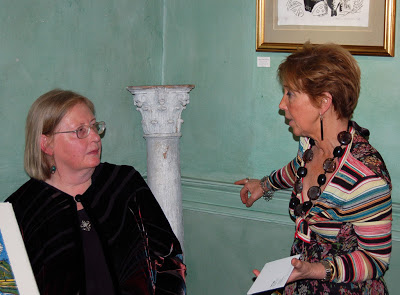 In this photograph, Frances is talking with Pauline Griffiths, the Proprietor of The Art Shop and Gallery in Abergavenny, who very kindly offered to mount an exhibition of our books (and some prints from them) which will be open until 23rd August 2008.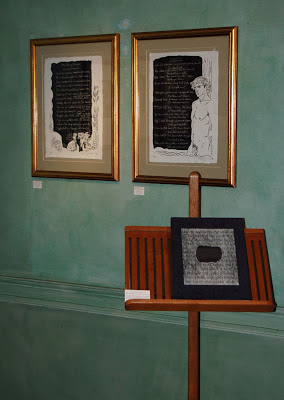 The Gallery is housed in a beautiful building, of considerable antiquity, in the main street of this pretty town which retains a rarely characterful shop front and deliciously low ceilings and wiggly staircases. Pauline has enhanced the Gallery's wonderful atmosphere with subtle and sensitive paintings of walls. We found that this lovely green colour, while making the whole room a work of art, seemed to enhance the look of every single one of our books!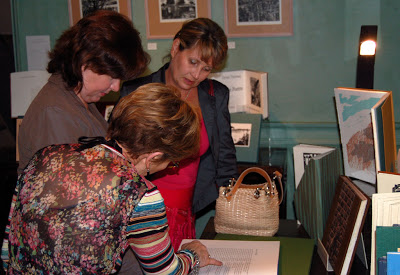 Last evening we very much enjoyed the Private View at which we met a number of people who had not come upon our books before and expressed themselves amazed that such things were being produced in these times!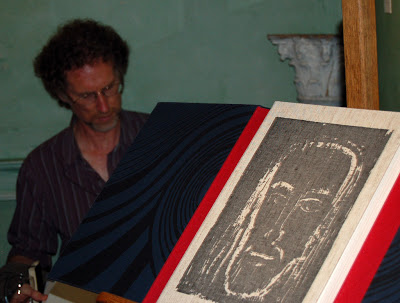 One lady said, of Natalie d'Arbeloff's Revelation, seen above, that she thought we should add a nought to the price – but, please, not until she had bought a copy for her herself and her husband!
The photographs below will speak for themselves. Anyone who happens to be near this part of South Wales during the next month should treat themselves to a visit to Abergavenny and pop in to see the show!