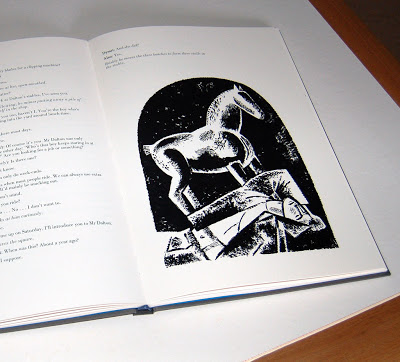 EQUUS
The play by Sir Peter Shaffer
Images by Clive Hicks-Jenkins
Equus was first produced on stage in 1973 and, in its first published form, Peter Shaffer wrote of the dangers of 'flatly setting down on paper what was far from flat on the stage, and listing inexpressively details of the work which, in accumulation, became deeply expressive'. John Dexter directed that first production 'powerfully through suggestion', '. . . he charges the action of the play with electric life. He is a master of gesture and economy.'
More than thirty years later those words could be written about Clive Hicks-Jenkins' imagery which now accompanies the text. He wanted to create his own universe for this new expression of Shaffer's story. 'Meditations and inventions, rather than recollections of past productions' were his aim.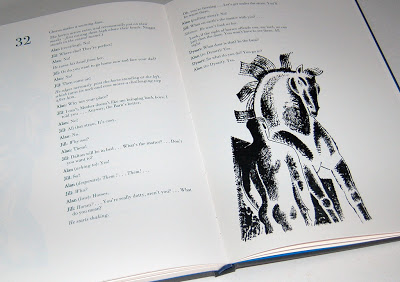 This is a long, dramatic text of a dreadful event committed by a highly disturbed young man. The characters endeavour to explore the mental world in which such a deed could be comprehensible but the power of the play is in the extraordinary relationship of the young man and his psychiatrist. Understanding the overwhelming nature of Alan's love of horses becomes the key and the imagery focuses on the struggle between horse and man and emergent sexuality.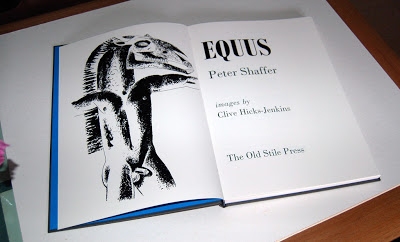 124pp. 325x235mm. Bodoni type. Regency Klassica paper. Images by Clive Hicks-Jenkins, multiple ground drawings printed from photopolymer blocks. Text printed by J.W. Northend. Cased binding, executed by The Fine Bookbindery, with printed paper sides and chemise slipcase printed from wood.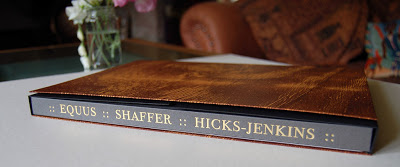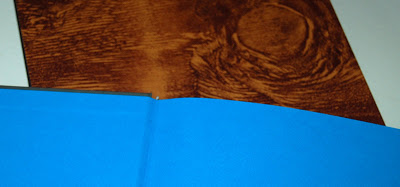 ISBN-13 987-0-907664-83-3
Main Edition: 200 numbered copies signed by the artist. £275
Special Edition: 12 copies (10 for sale) signed by the artist. £950
For the special edition, the book (within its chemise) is as described above but it is housed in a drop-back box together with an articulated maquette such as the artist is wont to make for himself to provide a 'model' for painting or drawing. In addition to the one model that has been made up, there is another copy on two sheets, as designed, which could also be made up into a second maquette. The artist has also provided an original drawing for each copy (one of his studies for an image in the book) together with an original linocut which was made, especially for this edition, on an EQUUS theme. Both of these are signed by the artist.
Further photographs of the binding and text pages of the main edition are given below. Some images of the goodies included in the Special Edition will be posted at a later stage!