Two years ago McNaughtan's bookshop in Edinburgh showed some of Angela's work  in their gallery upstairs during the Festival and this year they have again given over their gallery to her work but especially to celebrate her new book with us – Jubilate Agno.  We hope there will be some reading this blog who may have the opportunity to visit and see more of Angela's work as a painter and printmaker.  The book itself is described in detail on our website
McNaughtan's would be delighted to see you in their gallery and/or at the poetry readings. They have sent out a notice which gives the details of the event.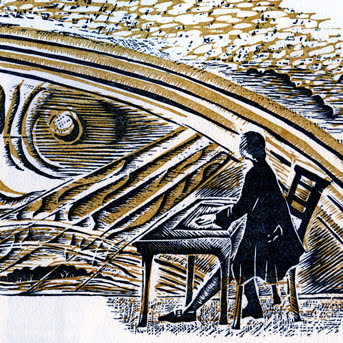 Angela Lemaire: Alpha & Omega
An exhibition in celebration of the publication of Jubilate Agno by Christopher Smart (1722-1771), published by The Old Stile Press in 2012. On show will be some of the images made for this book by Angela Lemaire, as well as her other, related works and artist's books. There will be woodcuts, linocuts, drawings, paintings and special books.
(All works for sale)
Private View: Monday 5th August 6-8pm
Poetry Readings
Angela Lemaire and Nicky Toneri will give readings from Christopher Smart's at McNaughtan's Bookshop on Wednesday 14th August at 2 p.m, 3 p.m and 4 p.m.
Exhibition continues until 31st August
Opening hours: Tuesday to Saturday 11.00 am to 5.00 pm
McNaughtan's Bookshop, 3A & 4A Haddington Place, (Leith Walk), Edinburgh, EH7 4AE
Tel: 0131 556 5897 Email: mcnbooks@btconnect.com
Web: www.mcnaughtansbookshop.com