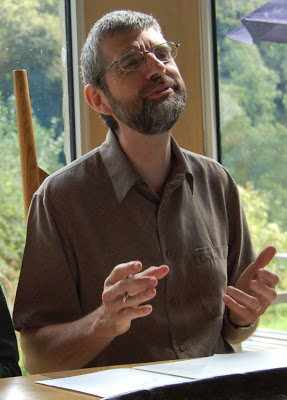 I would like to lie and say that this was a photograph I took this very morning to catch the moment when the poet was told that he had won the T.S. Eliot Prize for Poetry for 2009 but, apart from fear of my nose growing long, the scene of Summertime outside the window makes the idea not entirely convincing!
Rather, the photograph was taken at an earlier moment of rejoicing for us, namely when Philip Gross and Peter Reddick sat down together to sign the copies of The Abstract Garden which I had finished printing a short time before.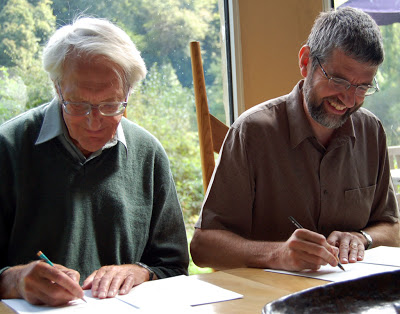 To remind our friends of this book, here is a photograph of the Titlepage and just one of the page openings each of which consists of a poem, a wood engraving and their careful position together on the page.
More can be found out about this this book (one of our greatest favourites, I have to say) by clicking on this link.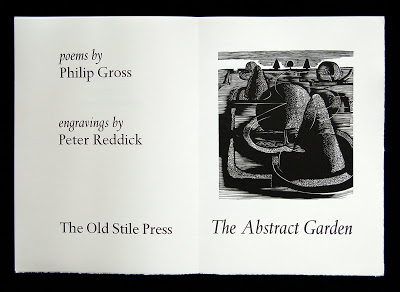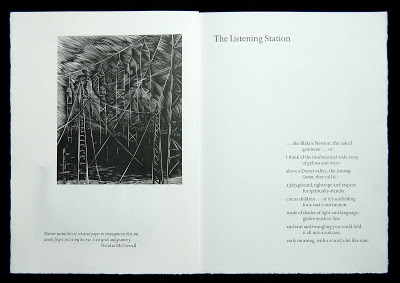 But the excitement of this day is, of course, is Philip's triumphant winning of the T.S.Eliot Prize for his book The Water Table, published by Bloodaxe.
The following is taken from a press release from The Poetry Society:-
The judges of this year's Prize, Chair Simon Armitage, and fellow-poets Penelope Shuttle and Colette Bryce, reached their decision after months of deliberation and debate. The winner was chosen from a field of ten highly-regarded poets.
Simon Armitage said:
"A book of great clarity and concentration, continually themed but always lively and alert in its use of language. Gross takes us from Great Flood to subtly invoked concerns for our watery planet; this is a mature and determined book, dream-like in places, but dealing ultimately with real questions of human existence."