Over the years, we have been tremendously happy to have had the opportunity to work with our friend Clive Hicks-Jenkins to produce three large books and two small ones . . . and we are about to begin work on another, a very exciting development for us, news of which I shall be bringing to you before long!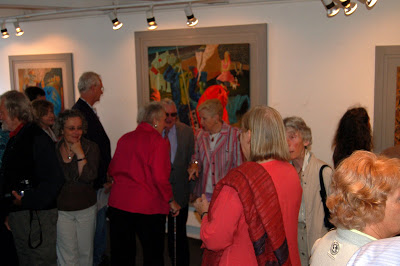 As many people are already hugely aware and many others are swiftly finding out, Clive is most importantly a mighty painter and the opening of his latest exhibition, last Sunday at MOMA, Wales, was a thrilling event.
If you can possibly get to The Tabernacle, Machynlleth, Powys, you will find the journey well worthwhile. I hope that these photographs will give some atmosphere of the paintings and of the event BUT, to see more formal images of the paintings and to read about their background, you should visit Clive's beautiful website (see right) .
Look especially for
Hervé and the Wolf : Saints and their Beasts