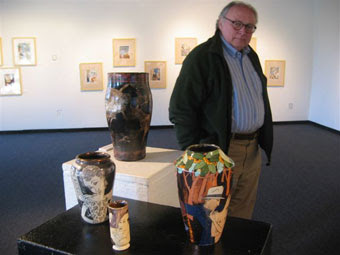 Especially if one lives in rural isolation, the Carrier supplies an incredibly valuable service. A few days ago one such van came to our door, at our request, and saw to it that a large parcel was delivered to a hotel in Edinburgh in double quick time. Some days later the same parcel was returned to us with the contents somewhat modified. We did not need to leave the house!
Staying in the Edinburgh hotel was Michael Onken, well-known already to readers of this blog as the artist whose relief blocks I have been printing rather manically of late to complete The Girl from the Sea, the play for voices by the late George Mackay Brown.
Michael had taken the opportunity to time one of his regular escapes from the United States to Orkney with our need for him to sign the edition and also the proof pulls of four of the engravings in the book which will be found alongside the book in the TEN copies of the Special Edition.
The final treasures in the parcel were also destined for the Special copies, being ten original paintings by the artist, in watercolour on handmade paper, each loosely based on a scene from the play or on one of the engravings in the book. These are really lovely things and I cannot resist posting three of them here . . . at random, which is how they will be received by their eventual owners, those who obtain one of the Special ten copies.
The photograph at the head of this post shows Michael at the most recent exhibition of his paintings in America.