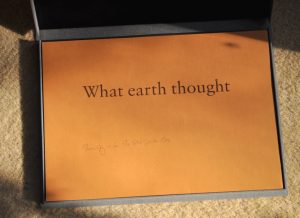 A sestina by Christopher Meredith with uniquely printed imagery by Sara Philpott
Christopher Meredith has written a poem in a form which he says, in his Afterword, he had never expected to write. A sestina. In a study of language and its earliest forms, he discovered that a very limited number of words fitted perfectly a poetic form with a complex system of repetition of six basic words. Breath. Earth. Stone. Woman. Hunger. Moon. The unpromising sestina, with its six key words and their looping patterns of repetition, gave me a shape to suggest the complex music and rhythms of lived lives in specific moments, across a year, and across ages. He likens the process of writing a sestina to skipping in lead boots. A piece of verbal contortionism. The outcome he achieves, however, together with Sara Philpott's imagery, creates a haunting work of imagination and exploration of our innermost thought and feeling. Sara writes: From the countless thousands of years it seemed to distil for me the reverberation of the voice of womankind herself. The poem speaks to a wordless part of me. She has responded from her experiences of motherhood and her own and her children's responses to elemental nature around them. These images are cut in linocut but printed by Sara herself using techniques of hand-inking which resulted in each single proof being unique and appearing to us mere mortals at The Old Stile Press as the purest of magic!
Editions & Inscriptions
Copies of the Main Edition are 26 Lettered Copies A-Z signed by poet and artist
Linocut with hand-inking by the artist Each print is laid into a folded sheet with text printed facing the image. Together they are in a cloth covered portfolio housed in a clamshell box lined with velvet.
What Earth Thought
Published in 2018
72 pp.
370 x 260 mm
Editions & Availability
26 copies were printed of the Main Edition and copies are available to buy at £950 each.
ISBN: none
Special Editions are not available.
Purchase Enquiry
If you would like to purchase this book, please contact us, letting us know which edition you are interested in and your address.
Media Notes