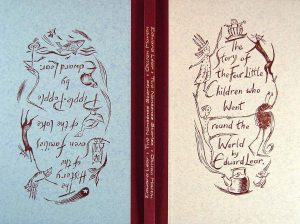 The Story of the Four Little Children Who Went Round the World and The History of the Seven Families of the Lake Pipple-Popple by Edward Lear
In addition to the well-loved limericks, alphabets and songs, Edward Lear wrote only these two pieces of sustained nonsense prose. They were published in 1871 in Nonsense Songs, Stories, Botany and Alphabets and are reprinted here in a way which we feel Lear would have approved.
Gillian Martin's drawings, which appear on every page, have echoes of Lear's style but are in no way pastiches. With true Lear logic, each story starts from its own end of the book and, where they meet, is to be found an 'extra' loose sheet reprinting the even less well-known Nonsense Cookery.
For each of the 26 lettered copies of the special edition, Gillian Martin has hand water-coloured a number of the drawings and on a blank page in the centre of the book has executed an original drawing and watercolour around the letter individual to that copy.
Editions & Inscriptions
Copies of the Main Edition are Signed by the artist
Copies of the Special Edition are Both covers, both half-titles, both title-pages and the loose double leaf insert hand coloured by the artist and with an original, coloured drawing on the verso of the two colophons in the centre. Binding and slipcase otherwise as for the ordinary edition but with white, identifying spots added to the slipcase.
Set in artist's drawn alphabet made into computer typeface. Printed on T.H. Saunders mould-made paper on a Victoria platen press. Pen and ink drawings and text printed from polymer blocks made by the printer. Bound in dos-à-dos style. Red cloth spine, titled in gilt. Boards covered in Ingres paper, a different colour on each board, the two individual titles (with images) printed in brown, one on each board. Black sprinkled edges. Slipcase covered in black cloth with pink laid paper covered sides, each side printed with a different illustration. Extra double leaf loosely inserted.
Two Nonsense Stories
Published in 1990
72 pp.
280 190 mm
Editions & Availability
206 copies were printed of the Main Edition and copies are available to buy at £100 each.
ISBN: 978-0-907664-19-2
Only 26 copies were printed of the Special Edition and copies are available to purchase at £275 each.
ISBN: 978-0-907664-18-5
Purchase Enquiry
If you would like to purchase this book, please contact us, letting us know which edition you are interested in and your address.
Media Notes