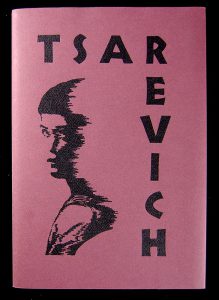 The little Tsarevich Alexei must be one of the saddest characters to have trodden the stage of world history. He was born heir to all the Russias but lived at the wrong time and in a crumbling body. His haemophilia meant constant pain and little fun.
A 'home-movie' clip shows a clutch of naked, urchin chums diving happily into a lake. Alexei remains motionless, fully dressed and overseen by his sailor attendants. When the family met its bloody end at Yekaterinburg in July 1918, he was at least, so it is believed, the first to be shot.
A famous photograph, the boy looking over his shoulder, haunts. Figurehead, ruler-by-numbers or human being' He was hated by so many but provokes immediate sympathy, love even. Images were distilled from this one photograph and placed on pages and in relation to each other so that they might aid contemplation and meditation on the questions raised by this sad child's short life.
Editions & Inscriptions
Copies of the Main Edition are Signed by Nicolas McDowall
Computer-set Neuland type. Printed on Arches paper on a FAG Control 900 press. 14 images, printed in black, created from a single photograph of Tsarevich Alexei. Printed from relief polymer blocks made by the printer. Sewn in a single section into an extra sheet of Arches paper and laid in a fold of purple Canson mi-teint paper, printed in black with the title and an extra image.
Tsarevich
Published in 1997
16 pp.
290x 200 mm
Editions & Availability
1997 copies were printed of the Main Edition and copies are available to buy at £50 each.
Special Editions are not available.
Purchase Enquiry
If you would like to purchase this book, please contact us, letting us know which edition you are interested in and your address.
Media Notes