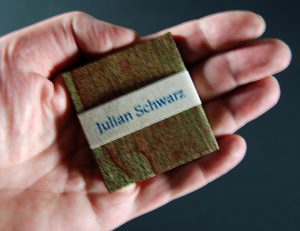 Eight Cycling Sibyls, Eight Famous Crows from Ancient Rome and Eight Nudes on One Plank created by Julian Schwarz
Julian Schwarz, sculptor and printmaker who lives in France, took a floorboard one day and carved into it Eight Nudes on One Plank. He followed this with two more sequences of small but powerful and wonderfully witty woodcuts and the three appear here as miniature books.
Editions & Inscriptions
Copies of the Main Edition are Signed by the artist.
Each consists of eight images cut on single pieces of wood. Printed on various Zerkall papers, on a FAG Control 900 press. Bound by Habib Dingle. Paper covered boards, sponge decorated by the printer.
Three Miniature Books
Published in 1995
63 x 59 mm
Editions & Availability
240 copies were printed of the Main Edition and copies are available to buy at £35 each.
Special Editions are not available.
Purchase Enquiry
If you would like to purchase this book, please contact us, letting us know which edition you are interested in and your address.
Media Notes