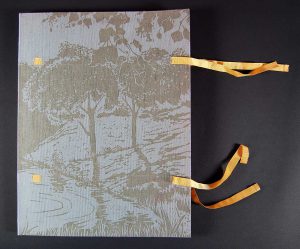 Martin Pitts' name has been associated with The Old Stile Press since the very beginning. He made linocuts for our first book and, since then, a succession of projects with his images has been eagerly awaited and well received by many collectors.
The Hon. Roden Noel lived from 1834 to 1894. In this poem he mixes elements of the story of Salmacis & Hermaphroditus from Ovid's Metamorphoses with memories of moods, settings and atmospheres from his Irish childhood, combining (as John Addington Symonds wrote) full sensuous feeling for the material world with an ever-present sense of the spirit informing it and bringing all its products into vital harmony.
This enables him to paint pictures of voluptuous beauty and concrete form . . . Martin Pitts' watery images are printed in dark honey-coloured ink on a light honey coloured Ingres paper with amazing reflected light achieved by further blocks printed in white.
Editions & Inscriptions
Copies of the Main Edition are Signed by the artist.
Blado type. Printed on stone-coloured Hahnemuhle Ingres paper on a FAG Control 900 press. 25 linocuts printed in a specially mixed honey colour and white. Limp cloth printed with overall linocut design by the artist. Gilt spine titling. Gold grosgrain ribbons. Blue Bugra Butten endpapers.
The Waternymph and the Boy
Published in 1997
40 double fold leaves pp.
327 x 250 mm
Editions & Availability
225 copies were printed of the Main Edition and copies are available to buy at £130 each.
ISBN: 978-0-907664-40-6
Special Editions are not available.
Purchase Enquiry
If you would like to purchase this book, please contact us, letting us know which edition you are interested in and your address.
Media Notes