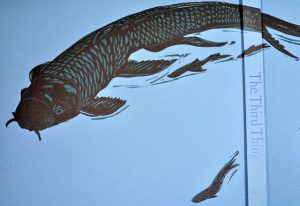 a selection of poems with woodcut images by Ralph Kiggell
Water and swimming have featured strongly in Ralph Kiggell's life and when we put forward the idea of a second book to follow his hugely successful Leading the Cranes Home it seemed right that 'Water' might be the basic subject.
Roger Deakin, the author of Waterlog, linked the passion to swim to our body's mystical sympathy for water: 'When you swim, you feel your body for what it mostly is - water.' If water makes up over half our bodies, connects us to absolutely everything living on Earth, and drifts about intergalactic space, somehow a swim connects it all, reassures us and returns us to land, content with our microcosmic place in the grand scheme.
However, swimming was not to be the sole focus of the book and Ralph allowed himself to explore poems and prose - from across different ages and cultures - to inspire the illustration of water as it interacts with landscape, animal and man. Poets and writers have shown us that from sea to land to cloud and back to sea, the cycle of water encapsulates history and life itself.
In this book, masterly woodcuts spread across the pages to guide us visually through the many aspects of that cycle of water described in words. Layers of translucent colour suggest the movement of water across swimmers - human and animal. There are driving shafts of rain, frozen crystals, rivers which support teeming life on boats, clouds heavy with impending downpours. All derive from D.H. Lawrence's wonder at the unknowable third thing that, with an oxygen atom and two of hydrogen, completes the mystery of water.
Poets in his selection include Robert Frost, Wallace Stevens, Padraic Colum, John Masefield and some more contemporary poets from Australia, Thailand, and the UK - Nancy Campbell translates from The Exeter Riddle Book and, together with Anna Zvegintzov, writes a new poem first seen here. Ralph Kiggell has chosen a wide sweep of writing as inspiration for his imagery to convey the variety of ways in which water provides life and is life for all on earth.
Editions & Inscriptions
Copies of the Main Edition are Numbered and signed by the artist.
Copies of the Special Edition are consists of a copy of the book placed in a drop-back box together with a portfolio of 4 images designed and cut specially for this edition. All these 'Special' images were printed (on Japanese paper, with water-based inks and by hand, using a baren) by the artist himself. Each is individually signed and numbered I-X.
The paper is 250gsm Vélin Arches. Ralph Kiggell's blocks throughout the book were printed from the wood in a palette of four colours, with a separate black for the text. The book was case-bound at The Fine Bookbindery with papers printed with the artist's images and the chemise is cloth-covered and has a printed label.
The Third Thing
Published in 2013
56 pp.
330 x 285 mm
Editions & Availability
138 copies were printed of the Main Edition and copies are available to buy at £350 each.
ISBN: 978-0-907664-89-5
Only 10 copies were printed of the Special Edition at £1250 each.
Special Editions are not available.
Purchase Enquiry
If you would like to purchase this book, please contact us, letting us know which edition you are interested in and your address.
Media Notes