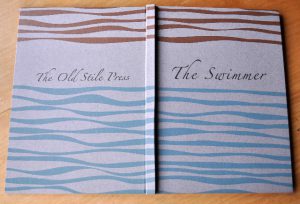 Short story by S.J. Butler
Photographs by Steffi Pusch
The Swimmer tells the story of a writer working in her room overlooking a river during a long, hot summer. Overcoming her initial fear of the river with its power and strength to overwhelm a swimmer, she steps into the water and into an unexplored realm of emotion. 'Words and pictures swim together' in the cooling water past tree-lined banks, under a bridge and around curving bends . . . so much is concentrated into this depiction of a self-revelatory experience.
Later. A richly inventive photographer reads the story and is inspired to create a suite of images to accompany it, employing both ancient and modern photographic techniques.
At this point the book designer/printer feels that the story's sense of flow and the photographer's images, which float as if in the water alongside the swimmer, could happily be brought together in a book where type has been chosen for slow contemplative reading and the cover design places the whole in the heart of nature.
The story curls across the page slowing the reader to the pace of the swimmer. Emotions crowd in as initial fear moves to exhilaration, apprehension turns to pleasure.
S.J. Butler's words and Steffi Pusch's pictures together create an atmosphere in which the reader too can share the emotion of the story. They each write a preface to introduce their approach to storytelling and its presentation through photography.
The Swimmer first appeared in The Warwick Review and was then selected for The Best British Short Stories 2011 published by Salt. This is its first publication together with Steffi Pusch's photographs.
Editions & Inscriptions
10 photographs taken, worked upon and printed using archival inks on FibaPrint photographic paper by Steffi Pusch. Binding by The Fine Book Bindery, Wellingborough using papers designed and printed at The Old Stile Press. The paper is Vélin Arches, the type is Zapfino with Aries Italic.
The Swimmer
Published in 2012
40 pp.
320 x 230 mm
Editions & Availability
100 copies were printed of the Main Edition and copies are available to buy at £150 each.
ISBN: 978-0-907664-87-1
Special Editions are not available.
Purchase Enquiry
If you would like to purchase this book, please contact us, letting us know which edition you are interested in and your address.
Media Notes