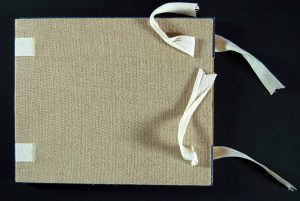 prepared from the Anglo Saxon by Kevin Crossley-Holland
Ever since the tenth century, versions of The Seafarer have been committed to books, though it was no doubt part of the tradition of poems recited aloud and learned by heart. Here, Kevin Crossley-Holland has written the poem in modern English verse which retains all the Anglo-Saxon poet's passionate love for the sea while recognising its hardships and dangers.
Inger Lawrance is Danish but now lives near the stormy Northumberland coast, so the sea features prominently in much of her painting and printmaking. Her woodcutting technique was learned partly in Japan and her imagery is very spare, almost calligraphic.
The book itself is somewhat delicately bound in the Japanese style but is enclosed, almost wrapped, in a portfolio of rough linen and blue buckram - as though it had survived a turbulent time at sea and is now rescued especially for the reader.
Editions & Inscriptions
Copies of the Main Edition are Signed by poet and artist.
Albertus type. Printed on Zerkall irregular laid silurian paper on a Victoria platen press. 42 wood cuts of which 9 are in two colours. Printed, from the wood, on one side of the sheet only, folded and stitched in the Japanese manner. The book is laced into buff coloured printed card covers, with black ribbon, and is contained in a portfolio of limp jute, lined with blue buckram and laced with ties of bookbinder's tape.
The Seafarer
Published in 1988
48 pp.
270 x 220 mm
Editions & Availability
240 copies were printed of the Main Edition and copies are available to buy at £140 each.
ISBN: 978-0-907664-21-5
Special Editions are not available.
Purchase Enquiry
If you would like to purchase this book, please contact us, letting us know which edition you are interested in and your address.
Media Notes