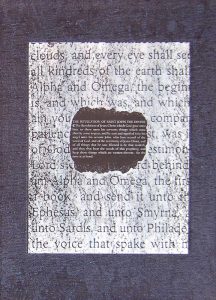 visually interpreted by Natalie d'Arbeloff
In about thirty startling black and white drawings with collage, Natalie d'Arbeloff creates the sense of a powerful current sweeping through the book, the words sometimes floating up, magnified, sometimes completely submerged but still present beneath the surface. Rather than being an illustrated Revelation, d'Arbeloff's version is a bold attempt to capture the experience of seeing these devastating visions as the Prophet himself might have experienced them.
While remaining faithful to the text, the artist takes some liberties with it, repeating certain words or re-arranging them on the page within the images. Neither word nor image is more important than the other. Rather, both swirl together across the pages, creating an astonishingly powerful visual experience.
Natalie d'Arbeloff s NdA Press was started in 1974 to produce own illustrated artist's books/livres d'artiste and one-of-a-kind bookworks. 48 titles have been produced to date and copies are in major public collections the world over. Solo exhibitions include the National Art Library and the Museum of the Book, The Hague.
Editions & Inscriptions
Copies of the Main Edition are Signed by the artist.
Printed on Fabriano Rosaspina paper on a FAG Control 900 press. 38 drawn and collaged black and white images with text (computer generated Columbus type) arranged as double-page spreads and printed on one side of concertina-folded sheets. In addition, a portrait block of the saint used on the end pastedown. Binding designed by artist and printer. Upper cover art canvas over a board, blocked in grey with repeat of image on rear pastedown, built into an outer folding case, covered in black art canvas with grey printed design and white paper inset printed with design similar to book pages and hand-toned in blue. The case opens as a triptych. Linings printed grey on black with a linocut by the artist. Scarlet insets. Tail uncut.
The Revelation of Saint John the Divine
Published in 1999
36 pp.
355 x 245 mm
Editions & Availability
150 copies were printed of the Main Edition and copies are available to buy at £300 each.
ISBN: 978-0-907664-44-4
Special Editions are not available.
Purchase Enquiry
If you would like to purchase this book, please contact us, letting us know which edition you are interested in and your address.
Media Notes