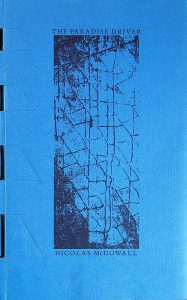 recollected and devised by Nicolas McDowall and with images 'found' and 'edited' by him
The text of this somewhat unusual book is taken verbatim from the tape-recorded recollection of a single night of extraordinary dream or vision or hallucination while under the benign influence of morphine -- given in hospital, a number of years ago, to relieve post-operative pain.
The images came originally from photographic sources but were captured, simplified and developed by the author/printer to give some approximation to the visual aspects of that ecstatic experience. Unexpected developments, after the book had been planned, designed and indeed printed, gave rise to the need for some 'Afterwords' -- so an additional four-page leaflet is loosely inserted into each copy.
Editions & Inscriptions
Copies of the Main Edition are Numbered and signed
Poliphilus with Blado type. The paper is 220gsm Rosaspina Avoria printed, damped, with inks of three different colours. The type was printed, with the images, from polymer line blocks. The non-adhesive binding, incorporating covers of printed Murillo, is by Nesta Davies, Licentiate of Designer Bookbinders.
The Paradise Driver
Published in 1999
32 pp.
350 x 210mm
Editions & Availability
150 copies were printed of the Main Edition and copies are available to buy at £60 each.
ISBN: 978-0-907664-47-5
Special Editions are not available.
Purchase Enquiry
If you would like to purchase this book, please contact us, letting us know which edition you are interested in and your address.
Media Notes