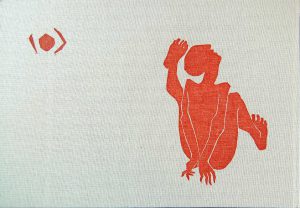 There will be few people who do not feel in some way moved, emotionally involved even, when mention is made of The Children's Crusade. Keith Bayliss has made large woodcut images of the children in progress through the book -- as they did through Europe towards Jerusalem.
At intervals in the progress the text, in Malcolm Parr's vivid translation, gives moving insight into the huge story -- by focussing on a number of individuals, who speak to us direct . . . Pope Innocent III, a Goliard, little Allys, a leper &c. Even the binding plays its part in the 'production'.
A simple modification to the normal slipcase design gives rise to a movingly dramatic effect. Based on the historical incident of the thirteenth century, this hauntingly original symbolist tale is testimony to the powerful imagination and sensitivity to human suffering of Marcel Schwob (I867-I905), essayist, critic and a man of immense linguistic and scholarly accomplishments. His knowledge of literature, especially English and German besides French, was wide and deep.
Among his friends and contemporary admirers were Anatole France, George Meredith and Robert Louis Stevenson.
Editions & Inscriptions
Copies of the Main Edition are Signed by translator and artist
Poliphilus type, with Blado. Printed on Fabriano Rosaspina paper in two different black inks. The woodcut blocks throughout were printed from the wood. Cased binding covered all over with natural canvas -- printed with woodcut images by the artist. Spine lettering and images blocked in black. The slipcase is covered with blue cloth, printed with woodcut images, and its shape has been modified to create an emotionally charged effect on withdrawing the book.
White Voices (La Croisade des Enfants)
Published in 2001
56 pp.
240 x 350 mm
Editions & Availability
200 copies were printed of the Main Edition and copies are available to buy at £260 each.
ISBN: 978-0-907664-57-4
Special Editions are not available.
Purchase Enquiry
If you would like to purchase this book, please contact us, letting us know which edition you are interested in and your address.
Media Notes