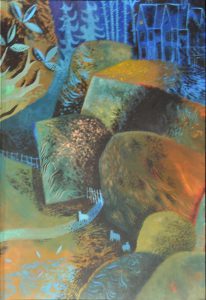 a Bibliography 2000-2010 The first 250 copies come with a small 'present' loosely inserted. This takes the form of a printed jeu d'esprit being Welcome to Spring by Gavin Douglas (c.1510). The sheet has a border decorations from Eric Gill's Troilus and Criseyde (Golden Cockerel Press) printed directly from the block.
We can safely assert that our first Bibliography (The Old Stile Press . . . in the twentieth century) was very well received when it was published ten years ago and is still highly regarded. Its aim to be entertaining and fun, as well as to contain all the information a librarian or bibliophile would need, was enthusiastically welcomed and it will not be surprising that, for this new volume, the same principles apply..
This time, however, the whole book (as well as Clive Hicks-Jenkins' fabulous cover painting!) is printed in full colour. Each of our books that has appeared since the last Bibliography was completed in 1999 here has two double page spreads with its bibliographical details and images photographed and printed in colour so that the bindings are shown as well as the interiors.
Nicolas writes about each, with anecdotes and dramas of their production or of how they came into being. He also contributes a short look into the future of books which may become! Frances writes about what happens to all these books once they arrive in the house from the binders - finding and keeping customers, providing them with information and generally 'delivering the goods'. Nancy Campbell has written an Introductory essay on the work of these ten years, with a great appreciation of the ethos in which the books come into being, the commitment of the artists and writers (where the text is contemporary) with whom the Press has worked, and then the books themselves.
Editions & Inscriptions
Copies of the Main Edition are Numbered copies.
Copies of the Special Edition are pages or spreads from almost all the books together with many other items. The box is designed by Nesta Davies to hold the book and a drawer filled with the loose pages, and incorporates strips of paper designed by Robin Tanner to line the inside.
Joanna type, litho-printed on Leseebo paper by J.W. Northend, Ltd. Designed, set, photographed and laid out by Nicolas McDowall. Sewn and bound with all-over printed card cover, from a painting by Clive Hicks-Jenkins.
The Old Stile Press . . . the next ten years
Published in 2010
136 pp.
288 x 215 mm
Editions & Availability
1000 copies were printed of the Main Edition and copies are available to buy at £45 each.
ISBN: 978-0-907664-85-7
Only 15 copies were printed of the Special Edition and copies are available to purchase at £850 each.
Purchase Enquiry
If you would like to purchase this book, please contact us, letting us know which edition you are interested in and your address.
Media Notes