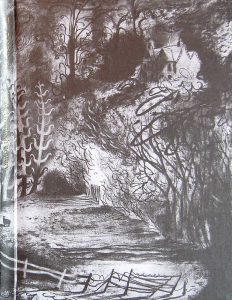 Buy both this volume and "the next ten years" for £80
This book contains a wealth of factual detail about Old Stile Press books (together with many images and a good deal of background information) assembled by Dorothy Harrop in addition to her bibliographical and historical study of the Press and its owners.
In his fascinating section, Peter Wakelin has turned his perceptive, art critic's gaze on the work of the artists with whom the Press has collaborated. Our decision not to print this book ourselves by letterpress means that each of our 40+ titles could be given the full visual as well as bibliographical description (with a colour section for bindings) that litho printing can afford and this has proved an excellent way of getting to know our books (second only to handling them) and of remembering those that have long sold out.
The enterprise that is The Old Stile Press, still entirely restricted by our capacities and energies (as joint-founders and sole labourers) entered the year 2000 as a sprightly twenty-one year old. Our modus operandi, of teaming up with artist/printmakers for the joint development of each of our books, was established early on and remained thus.
We are hugely grateful to those of our friends who encouraged us by buying books in the early days but nowadays we are endlessly surprised and proud at the incredible range and worldwide diversity of collector and special collection librarian who somehow find out about the books we produce, here in this beautiful valley, for the sole reason that we want to. We tried to design this book so that it would be a useful and enjoyable adjunct to a tiny or sizeable collection of our books, a help to librarians who may just have heard of us and an ambassador through which we may find new friends.
Editions & Inscriptions
Joanna type, black and white photographs throughout, printed on Five Seasons paper (with an 8-page section in full colour) and case-bound, with an all-over printed cover (from a wash drawing by Clive Hicks-Jenkins) and an acetate wrapper.
The Old Stile Press ... in the twentieth century
Published in 2000
136 pp.
210 x 280 mm
Editions & Availability
and copies are available to buy at £45 each.
ISBN: 978-0-907664-49-9
Special Editions are not available.
Media Notes