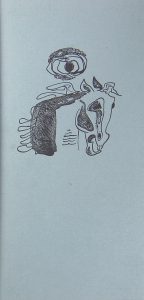 In 2001, Newport Museum and Art Gallery housed a major exhibition of the paintings and drawings of Clive Hicks-Jenkins. Though partly retrospective, the main part of the exhibition was a sequence of work entitled The Mare's Tale.
This centred on the mumming figure of the Mari Lwyd used symbolically and especially to explore the artist's journey toward acceptance of his father's death. Poems by Catriona Urquhart, which were inspired by these works, were exhibited beside them.
The book, here published by The Old Stile Press, presents these poems and, in turn, has images by Clive Hicks-Jenkins specially prepared for the purpose.
Editions & Inscriptions
Copies of the Main Edition are Numbered and signed by the poet and artist.
Octavian type. All-rag paper from St Cuthbert's Mill. Line images by Clive Hicks-Jenkins throughout and on the cased binding.
The Mare's Tale
Published in 2001
32 pp.
282 x 146 mm
Editions & Availability
180 copies were printed of the Main Edition and copies are available to buy at £60 each.
ISBN: 978-0-907664-54-3
Special Editions are not available.
Purchase Enquiry
If you would like to purchase this book, please contact us, letting us know which edition you are interested in and your address.
Media Notes