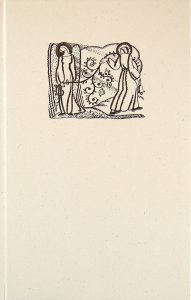 in 1923 with drawings by Robin Tanner made in the 1920s Poems by Alice Meynell line drawings by Robin Tanner
The delightful images were drawn (at the behest of Wilfrid Meynell, the poet's husband and publisher) directly on the pages of a single extra-illustrated copy of the first edition.
The wonderful years of our friendship with Robin and Heather Tanner (and those since their deaths in 1988 and 1993), have been punctuated by amazing synchronicities, serendipities and chance meetings with strangers who turn out also to have been touched in some way by these remarkable people. 2004 marked the centenary of the birth of Robin Tanner and we had been sad not to be able to publish a celebratory volume from The Old Stile Press. How entirely typical, then, that the post should one day bring us an elegant catalogue from an antiquarian book dealer, known to us but who had not sent us catalogues before. In it we read, with great excitement, of the delicious book already mentioned. We had to acquire it!
It was clear that the drawings could be printed from line blocks. As the drawings were often related closely to particular poems, we decided to retain the pagination of the original but the books format and layout were changed and Eric Gill's Joanna type was employed. A desire for endpapers meant that we could use one of the designs that Robin made for us in 1984.
To print this book has been a delight and we are happy to be able to share with others these charming drawings, set among the noble poems for which they were made.
Editions & Inscriptions
Copies of the Main Edition are Signed by the publishers.
Joanna type. Zerkall mould-made paper. Endpapers printed with a design by Robin Tanner. Case binding employing one of the images.
The Last Poems of Alice Meynell
Published in 2004
64 pp.
265 x 168 mm
Editions & Availability
150 copies were printed of the Main Edition and copies are available to buy at £95 each.
ISBN: 978-0-907664-69-7
Special Editions are not available.
Purchase Enquiry
If you would like to purchase this book, please contact us, letting us know which edition you are interested in and your address.
Media Notes