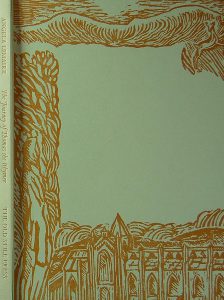 with wood engravings and an Afterword by Angela Lemaire 2001
Thomas the Rhymer, also known as Thomas of Erceldoune, was a real person who lived in the 13th century. While wandering alone in the forest lands of Melrose Abbey, Roxburghshire, Thomas saw a beautiful lady riding on a palfrey. He took her to be the Queen of Heaven. She denies it and tells him she is from 'another country'. She is, rather, the Queen of the Fairies.
There follows an otherworld journey which he related in a visionary poem that has come down to us in various ballad forms and also in several romance-prophecies dating from the fifteenth century. A later version of one of these is the text used here as we follow Thomas's request for love, their eventual love-making and many adventures before they have to part at the Eildon Tree - but not before the Lady has given him the gift of truth, after which he is known as True Thomas. This mysterious, compelling and exciting story still seems to have a hold on our psyches - the transforming powers of the hidden muse are very much alive.
Apart from the glowingly mystical engravings that Angela Lemaire has made for this edition, her fascinating Afterword is seeded with an earlier set of engravings depicting the twelve months.
Editions & Inscriptions
Copies of the Main Edition are Numbered and signed by the artist.
Van Dijck type. Designed and printed, on 175gsm Zerkall mouldmade paper, by Nicolas McDowall. The nineteen wood engravings and the three linocut borders are printed from the original blocks. In addition to the second colour used for the linocuts, three different black inks were employed. The printed materials used in the cased binding and the slipcase were prepared at The Old Stile Press.
The Journey of Thomas the Rhymer
Published in 2001
2001 pp.
165 x 190 mm
Editions & Availability
220 copies were printed of the Main Edition and copies are available to buy at £130 each.
ISBN: 978-0-9076640-52-9
Special Editions are not available.
Purchase Enquiry
If you would like to purchase this book, please contact us, letting us know which edition you are interested in and your address.
Media Notes