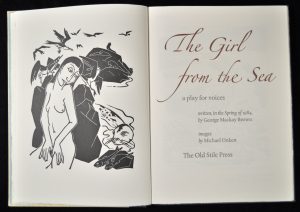 A Play for voices by George Mackay Brown
Eighteen years ago we celebrated the seventieth birthday of George Mackay Brown by publishing In the Margins of a Shakespeare. It has long been out of print – but we are now able, with the kind help of his literary executors, to print an edition of a previously unpublished 'play for voices' written in 1984.
There are many stories and legends of selkies – the seals that surround the shores of Orkney – their deep brown eyes that captivate humans, their singing that mesmerises. George Mackay Brown had written stories of them. Then we met an American artist, Michael Onken, who came regularly to Scotland to draw and paint and had developed a passion for the writing of GMB and for selkies which he drew while on Orkney. We asked the literary executors if by any chance there might be any unpublished writing about selkies - and almost by return we were offered The Girl from the Sea. It is a simply told play which involves a young man, his elderly parents and the arrival of a beautiful girl in their midst . . .
Michael Onken has indulged his love of representing the antics of seals in the water, extending over several page openings, he has cut wood and lino to tell the story with imagery which captures the isolation of a croft on Orkney. Perhaps the play was devised for radio, perhaps for performance at a festival – we have not been told – but here the characters first created in words are brought to life in the pages of a book.
For each copy of the Special edition of ten Michael Onken has included an original watercolour together with four separate prints within a portfolio. In a much treasured letter sent to us when George Mackay Brown was still alive, he wrote:
'Go on for a long time making beautiful books' – here, many years after his death, we have carried out his wish!
Editions & Inscriptions
Copies of the Special Edition are Special edition 10 copies with a portfolio of prints and an original watercolour. Numbered I-X. All are numbered and signed by the artist.
The paper is Vélin Arches. 27 images printed directly from wood engraved, woodcut and lino cut blocks. Type is Albertina. The binding is by The Fine Book Bindery, Wellingborough.
The Girl from the Sea
Published in 2009
56 pp.
330 x 230 mm
Editions & Availability
195 copies were printed of the Main Edition and copies are available to buy at £185 each.
ISBN: 978-0-907664-82-6
Only 10 copies were printed of the Special Edition
Special Editions are not available.
Purchase Enquiry
If you would like to purchase this book, please contact us, letting us know which edition you are interested in and your address.
Media Notes