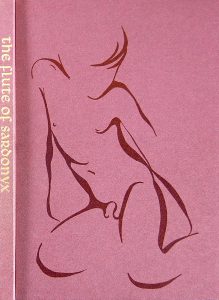 with an introduction written
by Nicholas Wilde
This collection of poems first appeared in 1913 but has fallen, perhaps understandably but undeservedly, into oblivion. Edmund John's poetry has a sensuous beauty and the authentic voice of love and loss.
Following what was almost a fashion in the first two decades of the century, the objects of the emotion in many of the poems are boys but, unlike most of the 'Uranian' poets, John's sincerity gives the poems a white-hot purity. It is this aspect of the text, together with intimations of the poet's agony at the loss of his own boyhood, that is so hauntingly captured in Nicholas Wilde's exquisite pencil drawings which are printed in the book by subtle lithography.
Editions & Inscriptions
Copies of the Main Edition are Signed by the artist.
Spectrum type, Monotype set , with Centaur and Libra type handset printed on Rivoli paper on a FAG Control 900 press. 16 pencil drawings, litho printed by Adrian Lack of the Senecio Press. Quarter cloth, spine titling blocked in gilt, boards covered in purple Ingres paper printed in a deeper tone of purple with an outline nude image of a boy. Slipcase covered in blue cloth with grey Ingres paper sides printed with a profile head .
The Flute of Sardonyx
Published in 1991
80 pp.
242 x 170 mm
Editions & Availability
260 copies were printed of the Main Edition at £95 each.
The Main Edition is no longer available.
ISBN: 978-0-907664-29-1
Special Editions are not available.
Purchase Enquiry
If you would like to purchase this book, please contact us, letting us know which edition you are interested in and your address.
Media Notes