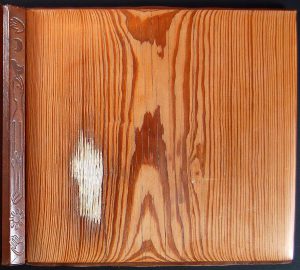 a fragment of a Norwegian folk epic c.400 A.D translated by Pauline Wehrle
This hauntingly powerful text played an important role in lectures given by Dr Rudolf Steiner.
It uses rich symbolism to depict a spiritual leader's journey of initiation and, as such, provided a perfect stimulus and challenge for the woodcuts of Maryclare Foa. Her immediate and intuitive technique seems to lay bare the very core of the subject for each of the thirty-six blocks which use, as do the verses of the poem, a childlike directness to treat of matters too spiritually deep for the words and images of everyday life.
The massive and eternal quality of text and image has been matched by the amazing binding devised and executed for the whole edition by Habib Dingle. Already renowned for his unique wooden bindings, he has here tackled the problems of quantity. The wood comes from Victorian pitch-pine beams, reclaimed, shaped and polished and incorporated with rawhide, with blind tooling, to form the book's case.
Editions & Inscriptions
Copies of the Main Edition are Signed by the artist.
Parchment type, computer set and printed from polymer blocks. Printed on Vélin Arches paper on a FAG Control 900 press. 36 woodcuts printed from the wood. Binding designed and executed by Habib Dingle. Quarter leather, spine blocked with design in brown. Wooden boards made from old, reclaimed pitch pine beam with leather strip inserted in top and bottom edges.
The Dream Song of Olaf Åsteson
Published in 1995
74 pp.
260 x 280 mm
Editions & Availability
140 copies were printed of the Main Edition at £200 each.
The Main Edition is no longer available.
ISBN: 978-0-907664-38-3
Special Editions are not available.
Purchase Enquiry
If you would like to purchase this book, please contact us, letting us know which edition you are interested in and your address.
Media Notes