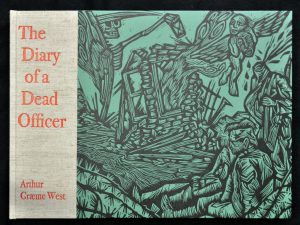 selected posthumous papers of Arthur Graeme West
Afterword by John Abell
In this remarkable diary - Arthur Graeme West's only book - we read of the journey from being a young Balliol scholar eager to join the army in 1914 to a disillusioned man who loses his faith in the army in which he served and then his belief in God.
At first rejected for a commission because of poor eyesight, he nevertheless joined the ranks and was sent to France in 1915. He saw much action and was one of the first to write a poem about his fearsome experiences . . . particularly in The Night Patrol. One of his later poems spoke fiercely against the poets who saw the war as epic, or a happy game.
In April 1916 West was sent on an Officer training course in Scotland which contributed to his strong feelings against war. He visited and talked with many pacifists, especially C.E.M. Joad, and came near to refusing to return to his battalion. However, he did return to France and became an Acting Captain. A sniper's bullet killed him on 3 April 1917.
John Abell, an artist and printmaker reading these diary entries a hundred years on and at around the same age, is filled with a similar passionate hatred of war and the destruction of countless lives. His intricately worked linocuts for this book give a visual dimension to the intensity felt by both young men. Exploding shells tear out of the page and through our ears, bodies are in every corner - slumped in mud, surging over the top of the trenches, shuddering in death and only occasionally watched over by a protective angel's wing. There are fiercely descriptive heads of the donkeys who give the orders and demand more men to face these horrors.
John was runner up in the Welsh Artist of the Year award 2014. This title was for his 1.5m wide woodcut print entry 'Three Graces: All the Floods Left Them' and he came in first position for the print prize. His work has been widely exhibited, especially in a show of Welsh Printmaking which has toured in Europe and the UK. He has 19 woodcuts in a collection of short stories, Rarebit, published by Parthian.
Editions & Inscriptions
Copies of the Main Edition are Numbered and signed by the artist.
Copies of the Special Edition are just 10 copies for sale, has a copy of the book placed in a drop back box lined with red 'velvet' together with a portfolio of 9 signed prints which do not appear within the book, each on a separate sheet. Also, let into the base of the box, is one of the actual lino blocks used in the printing of the book.
The paper is 250gsm Vélin Arches. John Abell's images were printed directly from his linocuts. The book was casebound at The Fine Bookbindery in quarter cloth with paper sides printed with linocut images by the artist. Red 'velvet' lined slipcase.
The Diary of a Dead Officer
Published in 2014
64 pp.
280 x 380 mm
Editions & Availability
150 copies were printed of the Main Edition and copies are available to buy at £300 each.
ISBN: 978-0-907664-90-1
Only 10 copies were printed of the Special Edition at £1250 each.
Special Editions are not available.
Purchase Enquiry
If you would like to purchase this book, please contact us, letting us know which edition you are interested in and your address.
Media Notes