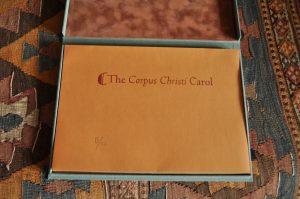 Eight Woodcut images handcoloured by Angela Lemaire
Medieval text
The Corpus Christi Carol is believed to have been written around 1504. The author is unknown. In modern times it has been set to music notably by Benjamin Britten in A Boy was Born. It is allegorical and utterly haunting - beginning with a soothing lullaby which is interrupted by the shocking appearance of a bird of prey which carries away the singer's beloved into a brown orchard. Angela Lemaire creates images for each part of the story and chooses colours which reflect the mood of the singer.
This very small edition of only 26 is explained by the fact that given our age large editions become too exhausting to produce by hand.
Editions & Inscriptions
Copies of the Main Edition are signed by Angela Lemaire
8 hand coloured woodcuts, each signed and a folded sheet with lines of the carol is printed to face the image. Further sheet with Afterword and Colophon. All held in gold paper portfolio. Typeface: Truesdell. Paper for prints is Somerset Bookwove, for text Bugra Butten. Dropback box covered in green cloth, lined with brown velvet. Binders: The Fine Book Bindery
The Corpus Christi Carol
Published in 2017
72 pp.
370x260mm
Editions & Availability
26 lettered copies A-Z copies were printed of the Main Edition and copies are available to buy at £950 each.
and copies are available to purchase
Media Notes