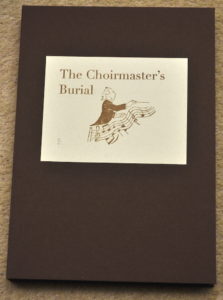 Ideas and inspiration for books can come from many sources: music can inspire words can inspire images or any combination of creative expression. Hence, for us, Benjamin Britten's songs frequently offer words which invoke imagery in the minds of artists with whom we work.
Thomas Hardy uses words to conjure the spirit of the English countryside and Britten's music fills them with angelic sounds. All this has excited Nicolas to work with Michael Onken again on a portfolio of black and white linocuts to accompany The Choirmaster's Burial (one of the songs in the cycle Winter Words).
Michael Onken has a remarkable ability to evoke the countryside in which a work is set, even though it may be far from his home in Carbondale, Illinois. Previously, in The Girl from the Sea the rocks of Orkney with its singing seals appealed so strongly to those who know and love the islands that his hand coloured edition sold out overnight. He writes in his Afterword of timelessness, of seeing the 'sun dance in the sky', of the beauty and humanity of the poem as told by the ageing tenor. The story is of unfulfilled promises not dissimilar to the Pied Piper and the burgesses of Hamelin but here the tale rejoices in the presence of angelic beings and their song.
Editions & Inscriptions
Copies of the Main Edition are Signed by Michael Onken
Relief images cut on a variety of surfaces are printed direct from the blocks. Small pen and ink images accompanying text pages printed from photopolymer blocks 11 relief prints each signed and a folded sheet with lines of the poem of Bugra Butten paper is printed to face the image. Further sheet with Afterword and Colophon. All held in paper portfolio placed in a dropback box covered in deep brown cloth and lined with brown velvet made at The Fine Book Bindery.
The Choirmaster's Burial
Published in 2019
44 pp.
260 x 370 mm
Editions & Availability
26 copies were printed of the Main Edition and copies are available to buy at £550 each.
Special Editions are not available.
Purchase Enquiry
If you would like to purchase this book, please contact us, letting us know which edition you are interested in and your address.
Media Notes