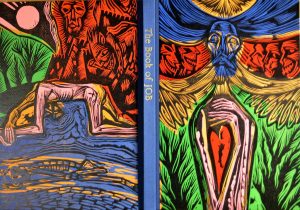 text taken from the King James Bible. Linocut images by John Abell
The Book of Job is the poetic discussion from the Old Testament which explores the nature of suffering. Why do the innocent suffer? Why are the righteous punished? Where is God's justice? 'Where shall wisdom be found? and where is the place of understanding? And unto man he said, Behold the fear of the Lord, that is wisdom; and to depart from evil is understanding.'
In an attempt to understand this the poet constructs the story of a righteous man named Job. He uses a popular folktale in which a good man suffers in order to prove to Satan that he does not serve Yahweh for selfish reasons. Being a ruler, Job was the model of the God-fearing, wise and philanthropic man who was also enjoying a peaceful life with his large family and among his friends. This deep piety and divine favour incited the envy of Satan who - not without much effort - eventually succeeded in obtaining God's consent to put Job to the test. In a very short time Job is robbed of all his possessions, his herds, his servants, his house and all his ten children. Finally, smitten with leprosy and abandoned by all, including his wife, he leaves the city and dwells on a dunghill. Through all these calamities Job remains steadfast not only to his faith in God. He also believes firmly that since he is without sin the reversal of divine will cannot be the consequence of his own sins. Finally, after many years of trial, God again reverses the just man's fate, restoring to him twofold all his worldly goods and giving him a new family.
That the author of the symposium did not accept this solution to the problem is shown very clearly in the arguments between Job and his three friends. Further speeches present other arguments and in Chapter 28 the nature of wisdom is revealed. It cannot be gotten for gold, neither shall silver be weighed for the price thereof. It cannot be valued with the gold of Ophir, with the precious onyx, or the sapphire. The gold and the crystal cannot equal it: and the exchange of it shall not be for jewels or fine gold. No mention shall be made of coral, or of pearls: for the price of wisdom is above rubies . . . Here are some of the most familiar lines of Biblical poetry giving rise to Tennyson's view that The Book of Job is the greatest book of ancient or modern times.
John Abell takes on the challenging narrative in linocut images throughout which express the harrowing events of a life being reduced to nothing from such comfortable heights and then suddenly reversed.
Editions & Inscriptions
Copies of the Main Edition are numbered and signed by the artist.
Copies of the Special Edition are contained within a 'velvet' lined solander box together with 8 original prints on biblical themes by John Abell which do not appear in the book: Creation, Adam & Eve, Cain & Abel, Abraham & Isaac, Noah, Jonah, Moses & the Burning Bush, Babel
Paper is Canaletto Velino Bianco 210 gsm. Type is Aries. Linocuts printed directly from the blocks cut by John Abell. The book is bound by The Fine Bookbindery, Northamptonshire. It is bound with a blue leather spine and the sides are covered with papers printed in four colours from blocks cut by John Abell within a red slipcase with a label.
The Book of Job
Published in 2016
80 pp.
350x250 mm (13.5x10 in)
Editions & Availability
150 copies were printed of the Main Edition and copies are available to buy at £300 each.
ISBN: 978-0-907664-93-2
Only 10 copies were printed of the Special Edition and copies are available to purchase at £1350 each.
Purchase Enquiry
If you would like to purchase this book, please contact us, letting us know which edition you are interested in and your address.
Media Notes