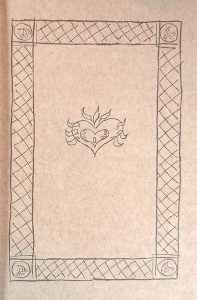 with an essay by Dr. Peter Wakelin: The enigmatic shepherd: the sweet and bitter love of Richard Barnfield (1574-1627)
When The Affectionate Shepheard was first published, in London in 1594, its author was 20 years of age and immediately became a celebrity -- although he ceased to write six years later. In the centuries since, however, both poem and poet have largely disappeared from sight. Printings have been few and this one is thought to be the very first to be accompanied by images.
The poem followed the rich tradition of pastoral poetry and was influenced especially by the second Eclogue of Vergil, taking unrequited love as its theme and, as its subject, the love of a shepherd, Daphnis, for the young man, Corydon. An essay, putting the work fascinatingly in its historical and literary context, has been specially written by Dr. Peter Wakelin for inclusion in this edition. If the poem is an unusual and worthwhile rediscovery, so is the printmaking technique employed by Clive Hicks-Jenkins. Involving glass and a layer of pigment, it is more akin to line engraving on, say, metal than to any form of drawing.
This publication is also remarkable for being the first of our books to be printed entirely on paper handmade by Frances McDowall at The Old Stile Press.
Editions & Inscriptions
Copies of the Main Edition are Signed by the artist and essayist.
Bulmer types, computer generated and letterpress printed from polymer blocks. Printed, on paper handmade by Frances McDowall, on a FAG Control 900 press. Illustrations on each page produced from autographic relief images using a variant form of cliché verre. Bound in vegetable parchment hand toned by the printer, illustrated on both covers with outline designs printed in grey, black spine titling. Special endpapers handmade by Frances McDowall. Folding slipcase covered in burnt orange cloth, lined with blue Ingres paper.
The Affectionate Shepheard
Published in 1998
58 pp.
340 x 225 mm
Editions & Availability
200 copies were printed of the Main Edition and copies are available to buy at £175 each.
ISBN: 978-0-907664-41-3
Special Editions are not available.
Purchase Enquiry
If you would like to purchase this book, please contact us, letting us know which edition you are interested in and your address.
Media Notes