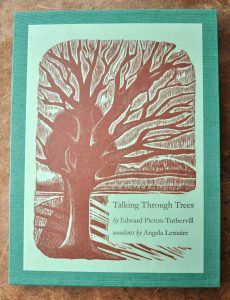 A thoroughly delightful exploration of trees around St John's College, Cambridge revealing their importance to a young undergraduate as he entwined the role of organ scholar and music student with his emerging passion to engage with the environment and its preservation. Imagine hearing a theme and improvisations which he might play on the organ - a paragraph on an aspect of a venerable tree on the Backs, a tangential leap to deal with thoughts which arise from characteristics of the nature of growth, or delights of climbing to great heights, then of swimming within dark waters at night, poems spring to mind. Angela Lemaire has followed his improvisatory ideas and made some remarkable woodcuts to enhance the book throughout. The Wordsworth Oak, the Little Lime, the Babington Yew, the Horizontal Willow - themes are stated and progress through moods of anger, rage, sadness, a need for solitude. 'What is an acorn if not a tiny 'wet' computer? A seed is a collection of algorithms that manipulate matter, rather than the darkness behind a computer screen. This is the key to understanding tree morphology; a tree is the embodiment of a set of instructions for obtaining the materials necessary for propagation.' Such are the revelations presented in a progress round the glorious trees of Cambridge.
Editions & Inscriptions
Copies of the Main Edition are signed by author and artist
Copies of the Special Edition are signed by author and artist
The paper is Vélin Arches, the type is Garamond and the artist's 30 woodcuts were all printed from the wood. The book was designed and printed by Nicolas McDowall during 2016 at The Old Stile Press. The binding was case bound at The Fine Bookbindery, Northamptonshire with papers printed with woodcuts by the artist.
Talking Through Trees
Published in 2017
48 pp.
380 x 285mm
Editions & Availability
140 copies were printed of the Main Edition and copies are available to buy at £300 each.
ISBN: ISBN 978-0-907664-94-9
Only I-X copies were printed of the Special Edition at £1350 each.
Special Editions are not available.
ISBN: n/a
Purchase Enquiry
If you would like to purchase this book, please contact us, letting us know which edition you are interested in and your address.
Media Notes