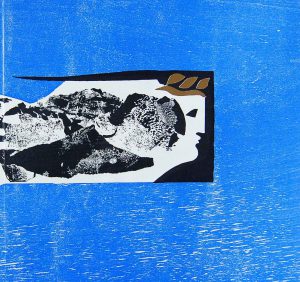 A poem by Vernon Watkins with an afterword by Gwen Watkins
In his commendation, written to be printed in this book, Rowan Williams, Archbishop of Canterbury, says that the intensely disciplined beauty of Vernon Watkins poetry is one of the still largely undiscovered treasures of twentieth century British literature. For Katherine Raine, Watkins was a singer born. He saw how light is woven out of the darkness, life out of death, to perfect a whole greater than either.
This beautiful poem (redolent of the Genesis creation story) has long been a favourite of the artist Glenys Cour who, with her sculptor husband, Ronald, was part of the famous group in Swansea that included Vernon Watkins and his close friend Dylan Thomas. Her richly powerful collage images help to make a journey through this large format book an extraordinary experience.
She is, still today, a near neighbour in Swansea of Gwen Watkins who has given so much kind encouragement to the project and, in the Afterword, has written compellingly about her husband's life and work. Special Edition The book itself is housed in a drop back box with an image on the front. Within the book, on every image-page, the artist has made additions by hand in gold which, as admirers of her paintings will know, is one of her trademarks along with the colour ultramarine, which also plays a key role in this production.
Editions & Inscriptions
Copies of the Main Edition are Numbered and signed by Gwen Watkins and Glenys Cour.
Copies of the Special Edition are Lettered A-Z and signed by Gwen Watkins and Glenys Cour.
Taliesin and the Mockers
Published in 2004
56 pp.
328 x 350 mm
Editions & Availability
225 copies were printed of the Main Edition and copies are available to buy at £250 each.
ISBN: 978-0-907664-67-3
Only 26 copies were printed of the Special Edition at £395 each.
Special Editions are not available.
ISBN: 978-0-907664-70-3
Purchase Enquiry
If you would like to purchase this book, please contact us, letting us know which edition you are interested in and your address.
Media Notes